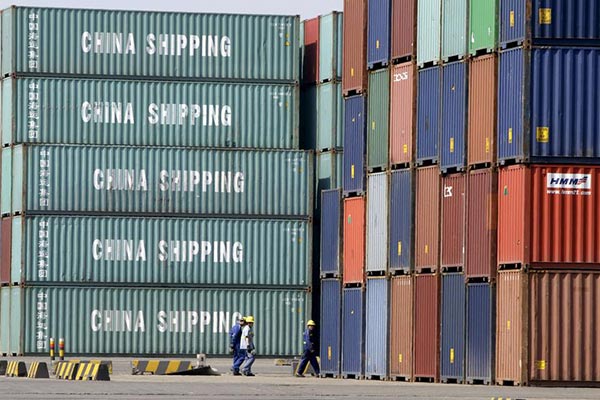 Workers walk past containers at Tianjin Port. [File photo/Agencies]
HONG KONG - Hong Kong-based China Merchants Holdings (International) Company Limited (CMHI) registered a 8.7 percent growth in container throughput from January to May, said a newly-released statement from the company.
The company has now changed its name to China Merchants Port Holdings Company Limited.
Despite the slow recovery of global economy and a substantial decline of China's imports and exports, the company's international port business has maintained overall steady growth which is better than the industry's average. In the first five months, the container throughput of its Chinese mainland projects grew 11.1 percent and that of overseas projects grew 3.8 percent, the statement said Sunday.
The company has been focusing on the development of its Colombo International Container Terminal (CICT) and Djibouti port, which registered a growth of 31 percent and 15 percent, respectively, said Li Xiaopeng, chairman of the Board.
Talking about the company's global blueprint, the company's executive director Hu Jianhua said that in Asia, the company intends to further participate in the Sri Lankan port development, mostly focusing on the construction of the Colombo East port district, hoping to cooperate with the existing Colombo south port in order to improve the service chain.
In Europe, the company mainly relies on its joint venture with Terminal Link with CMA CGM group to seek for suitable acquisition opportunities.
In Central and South America, the company will focus on investment opportunities brought by the decline in port asset prices due to the economy downturn and currency devaluation.
As a response to the new Ocean Alliance which will come to formal operation in April 2017, the Company will sharpen its competitiveness through improving its global network and intelligence port development, said Managing Director Bai Jingtao.
He added that the expectation for the second half of the year is better than the first half.