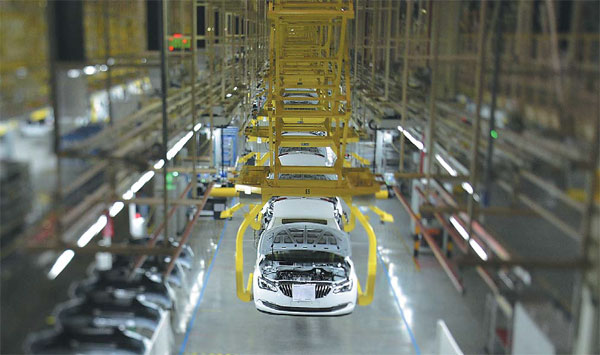 Vehicles roll off an assembly line in Wuhan, Hubei province. [Zhou Chao/For China Daily]
BEIJING - Auto sales in China, the world's biggest auto market, surged 9.8 percent year on year to 2.09 million vehicles in May, data from an industry association showed Monday.
Sales of passenger cars rose by 11.3 percent year on year to 1.79 million in May, according to China Association of Automobile Manufacturers.
The country produced nearly 2.07 million vehicles last month, up 5 percent year on year, the association said in an online statement.
In the first five months, auto output and sales rose 5.8 percent and 7 percent year on year to 10.84 million and 10.76 million units.
Meanwhile, passenger car sales of Chinese brands rose 10.9 percent year on year to 4.02 million, accounting for 43.4 percent of the total, 1.2 percentage points higher than the same period last year.
Auto exports dropped 22.2 percent year on year to 246,000 vehicles in the first five months, according to the statement.
New-energy vehicle output and sales climbed 131.4 percent and 134.1 percent to 132,000 and 126,000 in the first five months.
Chinese auto sales growth peaked at 45 percent in 2009 and has fallen steadily as cities try to control smog and congestion by limiting new vehicles on the roads.
Automakers sold 24.6 million vehicles in China in 2015, up 4.7 percent. This marks the smallest increase in three years, following increases of 6.9 percent and 13.9 percent in 2014 and 2013 respectively.