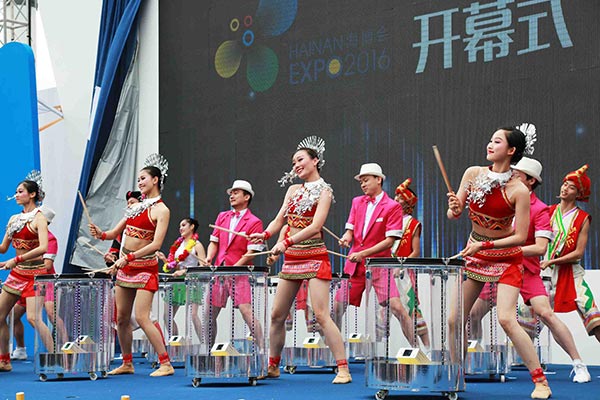 Performers perform at Hainan International Tourism Trade Expo which begins in the seaside city of Sanya on March 26, 2016. [Photo provided to China Daily]
HAIKOU - China's tropical island province of Hainan saw 173,300 overseas tourists in the first quarter, up 41 percent year-on-year, official data showed.
The number of inbound tourists has climbed for five straight months, according to figures announced by the local government on Tuesday.
The inbound tourism market of Hainan experienced a downturn due to a sluggish global economy and lack of air service until November 2015, when it showed signs of recovery after about 20 international air routes to the island were launched.
From January to March, more than 16 million tourists flocked to the island for its warm climate, tropical forests and beaches, up 13.4 percent year on year. During the period, it took in 16.8 billion yuan ($2.6 billion) in tourism revenue, up 14.2 percent from the previous year.
This year, Hainan will offer customized tours catering to tourists from different countries, said Lu Zhiyuan, secretary-general of the provincial government.
For example, seaside holidays and traditional Chinese health tours will be marketed to Russian tourists, while family, honeymoon and golf tours will be targeted to tourists from the Republic of Korea.
The island expects to welcome 58.69 million tourists in 2016, including 640,000 from overseas, to bring in 65 billion yuan in tourist revenue, according to the provincial tourism development commission.
In 2010, the central government set out to make Hainan into an "international tourism island."
According to a draft of Hainan's 13th Five-Year Plan (2016-2020), more than 80 million tourists, including 1.2 million from overseas, are expected to visit the island in 2020, with total tourism revenue set to surpass 100 billion yuan.