Only seven out of the 40 US-traded Chinese firms that proposed privatization over the past 12 months have completed the process, according to data compiled by Bloomberg.
However, the most recent successful case like Bona Film Group has rekindled the fire.
Dating app Momo surged 33.6 percent on April 6 after a regulatory filing showed Alibaba Group Holding's finance affiliates joined the group seeking to take the company private.
According to the filing, Alibaba Investment and Rich Moon, or Yunfeng Fund, have become the latest members backing a buyout of Momo that chairman and CEO Tang Yan proposed last June.
Here's a list of 10 US-traded Chinese firms that are in the process of privatization while eyeing a comeback to their home capital market.
1.Jumei International Holding
Listed on May 16, 2014
Issue price: $22
Privatization offer: $7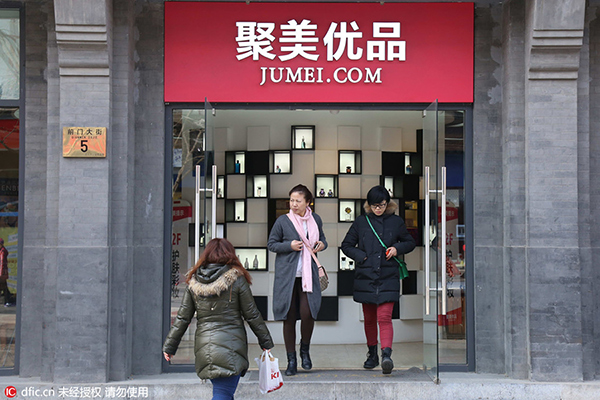 Customers walk into and exit an experience store of online cosmetic retailer Jumei.com in Beijing, Mar 5, 2015. [Photo/IC]