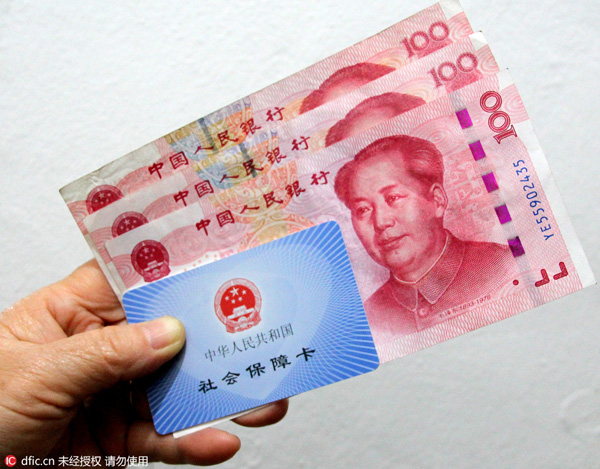 A social security card and several hundred yuan held in hand [Photo/IC]
China's Ministry of Human Resources and Social Security and Ministry of Finance have jointly issued a notice on cutting social security premium in a latest move to reduce enterprises' burdens.
According to the notice, effective from May 1, the employers' contribution rate to the pension fund will be cut to 19-20 percent depending on conditions.
In places where the employers' contribution to the pension fund is over 20 percent of the payroll, the rate will be lowered to 20 percent.
In places where the employer's contribution is already 20 percent, the rate can be lowered to 19 percent in the next two years, provided the total balance of pension fund in the region is enough for nine-month payouts.
The requirement for the rate of unemployment insurance payment, which was cut from 3 percent to 2 percent of the payroll last year, will be further reduced to 1 to 1.5 percent, with individuals' contribution capped by 0.5 percent.
The average contributions to work injuries and childbirth insurances remain unchanged following respective cuts of 0.25 and 0.5 percentage points last year. Further, the categories of childbirth and medical insurance will be combined pending future regulations by the State Council, the notice said.
Different provinces, autonomous regions and municipalities are required to roll out specific plans accordingly.
In response to the central government's earlier call to reduce the burden on businesses, 12 provinces and municipalities had cut social security payment requirements for employers and employees as of end-March.