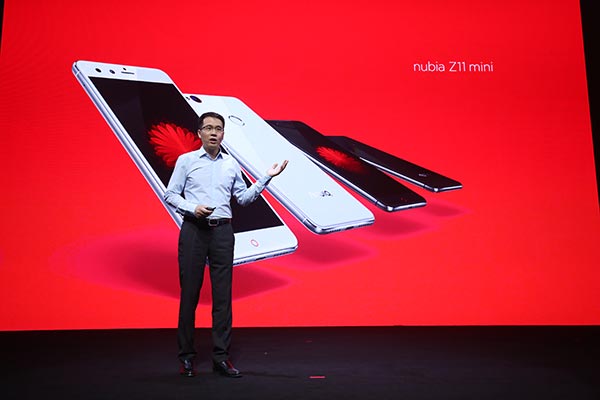 Ni Fei, co-founder and CEO of Nubia Technology Ltd, delivers keynote speech on April 19, 2016 during the brand's new product launch event held in Beijing. [Photo provided to chinadaily.com.cn]
More domestic smartphone makers are seeking out tycoons who are not directly connected to the industry for investments to compete in the mid-range segment.
In February last year, Alibaba Group Holding Ltd invested $500 million in Chinese smartphone vendor Meizu Technology Co Ltd, funding the expansion on retail channels and innovation.
In last December, Nubia Technology Ltd, another domestic smartphone maker originally owned by ZTE Corp, secured 1.93 billion yuan investment from Suning Investment Group, a separate investment arm of Suning Commerce Group, one of China's largest electronics retailers.
According to a report released by research company IDC, the market growth rate slowed down by 4 percent year-on-year in the first quarter, the first decline in six years. Currently, 290 brands are available in the market, while 63 present of the total shipment volume is contributed by the top five players, said China Academy of Telecommunication Research (CATR).
"The profit margins of domestic makers are weak," said CATR.
"The competition in China's smartphone market has come into the value-chain level," said Patrick Wu, senior analyst of GfK China. "Both the frequent launch of products and the integration between manufacturers, supply chains, distribution channels and telecom carriers is becoming a normal trend."
He said that applications and services based on cloud computing services have played an increasingly important role in the sector, and the collaboration based on core competences between the industrial chain's participates will be beneficial to the establishment of innovative systems.
Another trend that is about to catch on is the introduction of small-sized phones that have less than 5.2-inch screens.
By following the footstep of Apple Inc's newly launched 4.7-inch iPhone SE, two Chinese manufacturers, Meizu and Nubia, have just unveiled their 5.2-inch Pro 6 and 5-inch Z11 mini respectively within one month.
Instead of feeding the demands of phablet lovers, the companies are believed to aim at luring more travel photographers or users who remain attached to smaller display and handy experience.
According to Wu, hardware configuration is not considered as the premier factor for distinguishing different segment markets of the terminal devices. Drawing a product roadmap that aims at feeding target consumers is a must in the industry, so the key point for planning the screen size is the consumer demand.
Accompanying the upgrade of China's smartphone consumer market, handsets sold for more than 2,000 yuan ($310) will become a more valuable market. Manufacturers are keen on seeking their own value orientation so as to be competitive.