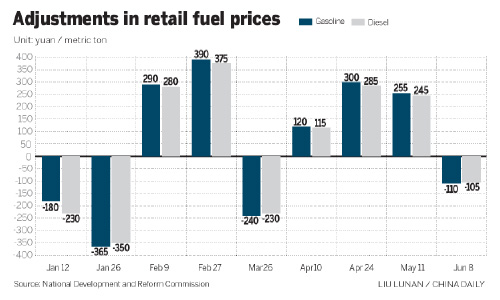 Retail fuel prices will be reduced slightly on Tuesday following three successive rises, reflecting a glut of crude oil.
The National Development and Reform Commission, the nation's top economic planner, said on Monday that retail prices of gasoline would be cut by 110 yuan ($17.78) a metric ton, or 0.08 yuan a liter, while diesel prices will go down by 105 yuan a ton, or 0.09 yuan a liter.
After the cuts, the benchmark price of 90-octane grade gasoline will be 5.96 yuan a liter.
The last price reductions were on March 27. So far this year, retail fuel prices have seen five hikes and four cuts.
With expectations of further cuts, the wholesale market has softened in recent weeks for both diesel and gasoline, said Liang Dan, a senior analyst at ICIS Energy, a Shanghai-based energy information consultancy.
Separately on Monday, the General Administration of Customs said crude import figures for May, which showed the lowest level in 15 months. Imports totaled 23.24 million metric tons, down 23.3 percent from the previous month.
Li Li, research and strategy director at ICIS Energy, said the high imports in April were driven by low crude prices rather than actual need.
"Energy demand is still weak," she said. "Falling crude imports in May were reasonable, given that buyers had stocked up a lot in previous months."
Li Yan, a crude oil analyst at consultancy Shandong Longzhong Information Technology Co, said most refineries carried out maintenance in May, which also depressed imports during the month.
"The Organization of Petroleum Exporting Countries' strategy of pumping into an oversupplied global market will worsen the (glut), which is likely to keep prices at a low level," Li said.
"Meanwhile, crude oil from Saudi Arabia and the United States is still at a record high, which is adding to traders' concerns," he said.
Li forecast that domestic retail prices will be cut again at the next date for pricing adjustments, which is scheduled on June 23.
Xue Qun, an oil product analyst, said fuel costs for individual drivers will fall by 3 yuan per 500 kilometers, while logistics companies will pay 35 yuan less per 1,000 km.