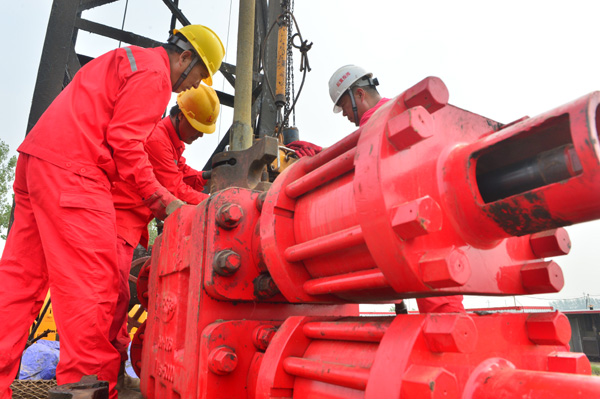 Sinopec engineers install equipment that can help increase output at a field in Puyang, Henan province. China has made increasing investment in the exploration of resources and breakthroughs in both geological theories and technologies. [Photo/China Daily]

Reserves of clean fuel now stand at 1.7 times those of oil, according to experts
China's proven reserves of natural gas are a much better choice than its oil reserves for ensuring adequate energy supplies in the long term, the Ministry of Land and Resources said on Wednesday.
Exploitable resources of natural gas in China were about 38.5 trillion cubic meters by the end of last year, about 1.7 times of the nation's exploitable oil reserves of 20.6 billion metric tons, said ministry officials. Each ton of oil equals to around 1,111 cubic meters of natural gas as fuel, according to industry experts.
By the end of 2014, China had utilized 6.2 billion metric tons of oil and 1.5 trillion cubic meters of natural gas, with both commodities contributing significantly to the nation's economic growth in the past years.
"Thanks to increasing investment in exploration of resources and breakthroughs in both geological theories and technologies, China's natural resources reserves have grown steadily in the past seven years," said Wang Jun, a senior official of the ministry.
Compared with the last round of evaluation data in 2007, China's geological resources grew 42 percent to 108.5 billion tons, while the exploitable resources rose by 26 percent to 26.8 billion tons from 2007 to 2014.
Geological reserves of natural gas soared 94 percent to 68 trillion cubic meters, with exploitable gas resources up 82 percent to 40 trillion cubic meters, compared with the levels of 2007.
Wang said the exploration costs for conventional oil and gas resources have risen due to the poor quality of the reserves.
"The new technologies used for exploration, especially under extreme geological conditions, have resulted in higher production costs," he said.
Boosted by China's growing demand for energy and the government's determination to cut carbon emissions, the consumption of natural gas, considered a clean fuel, grew by 16 percent in 2014 from about 24.5 billion cubic meters in 2000, according to data from the Economics and Technology Research Institute under the China National Petroleum Corp.
Affected by the economic slowdown and sharply falling coal prices, natural gas consumption in 2014 grew 8.9 percent to 183 billion cubic meters. Although the growth rate is slowing down, China's demand for natural gas will continue to increase, said sources.
Duan Xingkun, vice-president of the institute, said China's demand for natural gas will grow at 4.6 percent annually from 2020 to 2025.
At present, more than 30 percent of the natural gas consumption depends on exports. The country is accelerating cooperation projects with Russia and other countries in Central Asia to ensure long-term supplies.
Duan said China should raise gas utilization efficiency and make continuous efforts to tap unconventional natural gas resources, to offset losses from the high costs for low-quality resources.