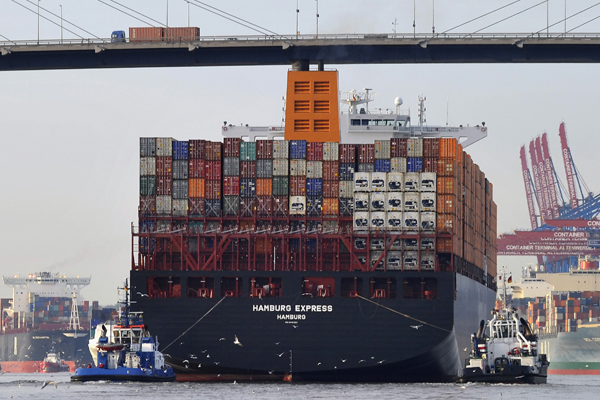 Container ship Hamburg Express is towed to the Port of Hamburg, Germany. Shanghai International Port Group Co Ltd is reportedly seeking a stake in the German port, which is the largest free port in the world. [Photo/Agencies]
Shanghai International Port Group Co Ltd is seeking a stake in the Port of Hamburg, the world's largest free port, German newspaper Hamburger Abendblatt reported on Wednesday.
The report said SIPG had also expressed interest in the Port of Bremen, another of Europe's largest ports.
SIPG Chairman Chen Xuyuan said that close cooperation between his company and either of the European ports would be lucrative and all parties involved would benefit. Chen made the comment during a port conference in Hamburg.
SIPG, which is listed on the Shanghai Stock Exchange, owns the largest port in the Chinese mainland. Its clients include many companies in the China (Shanghai) Pilot Free Trade Zone.
According to SIPG's official website, as well as press releases and disclosures to investors in May, the group has expanded into overseas markets. It won a 25-year franchise in Haifa, Israel, and joined the construction of Zeebrugge in western Belgium, the country's second-largest port after Antwerp.
SIPG did not respond to questions about the German ports on Wednesday.
SIPG is not alone among Chinese companies in seeking opportunities to own or operate ports overseas, especially amid increasing trade between China and the rest of the world.
On May 15, China Ocean Shipping Group was chosen as one of three shortlisted bidders for a 51 percent stake in Piraeus Port, Greece's largest port. Binding bids are due by September. COSCO manages two container piers at the port and has been in talks with Greece to buy a majority stake.
China National Cereals, Oils and Foodstuffs Corp invested $1.5 billion for a 51 percent stake in the agribusiness operations of Hong Kong-based Noble Group and reached agreement with the Netherlands-based agricultural and commodity trading group Nidera BV to acquire 51 percent of its shares in 2014.
Those deals will enable COFCO to control the two companies' port assets in South America (Brazil and Uruguay) and Asia to conduct grain storage and port loading businesses, according to Dong Liwan, a professor of international trade at Shanghai Maritime University.
Expanding port businesses can profit port owners in various ways and help trading companies improve efficiency and reduce costs, said Dong.
"It is also helpful for China's agribusiness companies to ship grain or other agricultural products such as palm oil and cotton to various markets through ports where they have operating leases or partnerships. It can save time by simplifying local customs requirements and other administrative procedures," said Dong.