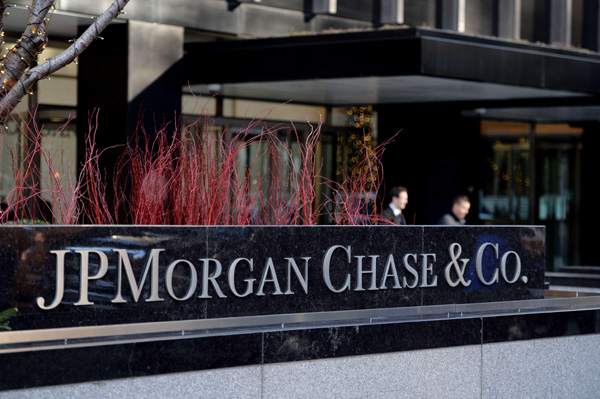 The headquarters of JP Morgan Chase & Co on Park Avenue in New York. Chinese households' growing disposable income may help create demand for new insurance products, says James Peagam of JP Morgan Asset Management. [Photo/China Daily]
Chinese firms become integrated into insurance market in Europe
China's insurance industry is becoming further integrated into the European economy through Chinese insurance companies' increasing acquisitions in Europe, said James Peagam, global head of JP Morgan Asset Management's insurance advisory.
This trend is emerging against the backdrop of consolidation in the European insurance market, as falling fixed-income yields over the past 30 years are leading to an increasing number of mergers and acquisitions among European insurance firms, Peagam said.
The acquisition of capital-starved European insurers allows Chinese insurers to expand their business overseas and diversify their portfolios, at the same time gaining access to expertise and potentially good returns, he said.
Some notable acquisitions in recent times have included Anbang Insurance Group Co's purchase of the Belgian insurance company Fidea last year and Dutch insurance company Vivat this year.
Fosun Group, a Chinese conglomerate, is also diversifying its businesses, expanding into the global insurance market through its acquisition of Portuguese insurer Fidelidade last year.
Peagam said that in selecting European targets it is important for Chinese insurers to consider the price they pay for the assets, based on the cash-generating ability of the target company, one that would ensure the return on equity is attractive.
"They need to look at the price of the acquisition relative to book value and make a decision as to whether it's sensible to buy," he said.
At the same time, such acquisitions may also have strategic consequences because the targets may have expertise in advanced insurance product design, which can be replicated in the Chinese market.
Chinese households' growing disposable income may also create demand for new insurance products, he said.
"To a certain extent, the speed of insurance penetration may be tied to the speed of the increase in household wealth. In other cases it may be more a matter of education on the benefits of certain types of insurance products.
"For example, there may be some products that Chinese firms have offered in the past which did not take off, so it would be interesting to research why not, versus similar products in the West which have done well.