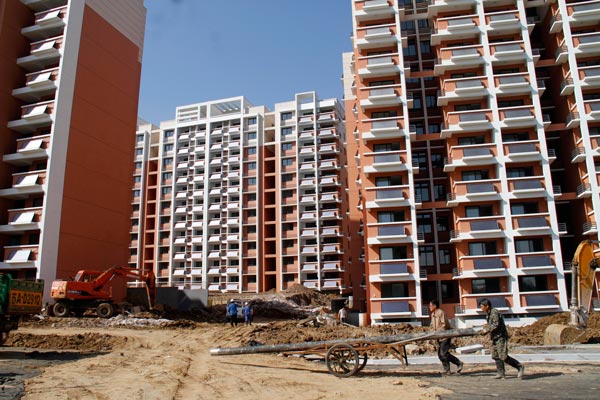 A property construction site in Nanjing, capital of Jiangsu province. [Photo/China Daily]
Industry regulators called for tailored land planning for different regions, advising those with massive housing inventories to reduce or even put new land supplies on hold, in the latest notice released by the regulators on Friday.
On the other hand, the housing land supply should be increased in regions where the demand outstrips the current supply, said China's Ministry of Housing and Urban-Rural Development and the Ministry of Land and Resources in a joint release.
To improve the living conditions of the people, the new policy allows housing developers to adjust the housing structure as well as some undeveloped land for building commercial housing which can be used for developing various industries including emerging industry, pension industry, culture industry and sport industry.
Meanwhile, local governments can purchase the commercial housing to create new public housing projects for people living in poverty.
In addition, the two ministries will jointly strengthen supervision of housing developers' activities. The authorities have the power to punish developers' illegal actions involving restricting or banning them from land bidding, and even revoke their license.
In February, 66 out of 70 Chinese cities surveyed saw a continuous decline in new home prices, while prices in Shenzhen and Ganzhou rose, according to National Bureau of Statistics.