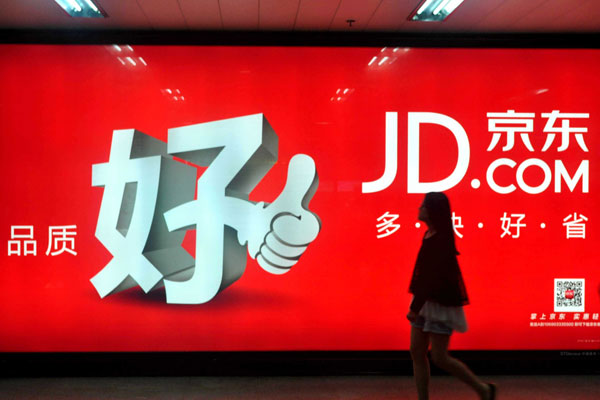 An advertisement for e-commerce retailer JD.com Inc in Shanghai. Yan Daming / For China Daily
JD.com's customers will have to accept higher threshold of free delivery after enjoying a long period of low-cost shipping fees. The company announced on Tuesday that it is adjusting its standard of free shipping to control costs.
According to a statement released by JD.com, one of the China's biggest e-commerce platforms, the updated "free shipping standard" will raise threshold by 20 yuan ($3.23), taking effect from April 2, 2015.
"Registered members, gold medal members, silver medal members and bronze medal members who purchase goods from JD.com after April 2, 2015, will enjoy free shipping at the minimum cost of 79 yuan," said the statement.
JD's diamond members will enjoy the same service from 59 yuan.
"Although JD's higher minimum order requirement for free shipping may not be good news for customers, the price increase may contribute to the firm's earnings to reverse a sustained loss," said technology website techweb.com.cn, citing an analyst whose name was not disclosed.
So far, the cost of free delivery at most of JD's main competitors differs widely.
The highest shipping fee charged by e-commerce companies is by yhd.com, which has three grades costing 59 yuan, 99 yuan and 199 yuan.
Amazon China charges 99 yuan, suning.com, backed by appliance retailer Suning Commerce Group, charges 48 yuan, yixun.com, backed by Chinese tech giant Tencent, charges 49 yuan (for customers in Shanghai, Xinjiang Uygur autonomous region and Tibet autonomous region, the prices are 59 yuan and 99 yuan, respectively).
Gome.com, backed by Gome Electrical Appliances Holding, charges 39 yuan and 99 yuan, while dangdang.com charges 49 yuan and 59 yuan depending on geographical location.