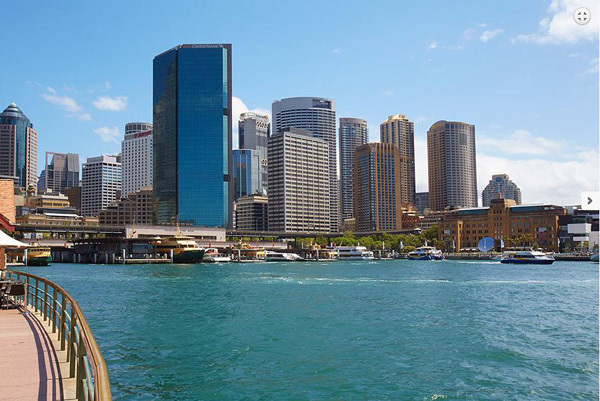 Photo shows the Gold Fields House in Sydney.Australian private equity group Blackstone has sold a piece of real estate overlooking the landmark Sydney Harbour Bridge and the Sydney Opera House for A$ 415 million ($327 million) to Chinese property giant Dalian Wanda Group.[Photo/Gold Fields House website]
Chinese investors will make more outbound property investment this year amid relaxing policies and rising investor sentiment, according to a report released on Wednesday.
The study by Colliers International, a global commercial real estate services organization, said Chinese investors spent around $14.26 billion on overseas property investment in 2014 and the investment is expected to increase further.
The compound annual growth rate of Chinese firms' outbound investment in the past seven years reached 50 percent, said the company.
Many of the deals have been smart choices because they were made in the right investment categories and with established foreign partners, it said.
Shanghai has become a favorite investment destination in Asia, while London and New York are the top targets for Asian investors.
"Outbound investment in Asia stood at $46 billion in 2014, the highest in history, and we project another 61 percent growth to some $71 billion in 2015," said the Colliers report.
"Many of the deals focused on properties that do not require any hands-on management, such as hotels and office buildings, and the returns are predictably stable and steady," said Lina Wong, an analyst with Colliers covering eastern China.
A new trend for Chinese investors when making outbound investment is that after the initial stage of considering only gateway cities, more are looking at other cities which also offer promising yields in the long run, such as Los Angeles, Frankfurt and Brisbane, Wong said.
At the same time, China has also been favored among foreign investors as an investment destination, and the fact that more capital flows inbound and outbound signs that the country's property market is maturing.
Simon Lo, executive director of Asia Research and Advisory with Colliers International, said Shanghai stands out among Asian cities as an investment destination.
Office buildings in Shanghai, especially in the Pudong New Area, have become the most popular investment category, and transactions are projected to grow further this year. Annual returns in the category were between 4 and 5.5 percent, according to Colliers' data.
Retail properties in first-tier cities such as Beijing and Shanghai have also been popular among international investors as China continues its shift toward a consumption-driven economy, said analysts.
Data from CBRE, a Los Angeles-based commercial real estate company, showed China remains Asia's top investment destination among retailers, with some 90 percent of the world's top international brands already present in China.