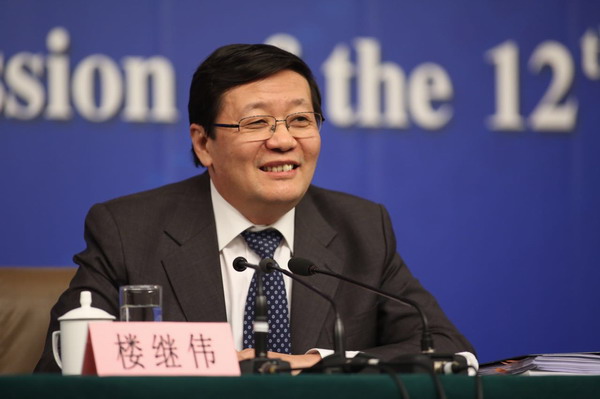 China's Minister of Finance Lou Jiwei takes questions from journalists at a news conference during the ongoing two sessions in Beijing, March 6, 2015. [Wang Jing / chinadaily.com.cn]
China's slowing revenue growth and rigid spending growth became the focal point of a news conference held by the Finance Ministry on Friday.
Finance Minister Lou Jiwei was confronted on the issue three times by different media outlets, highlighting widespread concern over the topic.
China's general revenue rose by 8.6 percent to 14 trillion yuan ($2.25 trillion) last year, the lowest expansion for 23 years.
At the same time, to withstand downward pressures this year, Lou said, the country "must adopt an appropriately expansionary fiscal policy to prevent the economy from falling off a cliff".
The central government spent 15.2 trillion yuan last year, leaving a deficit of 1.13 trillion yuan, or 1.78 percent of GDP that year. This year, the budget deficit is set to widen to 1.62 trillion yuan, or about 2.3 percent of GDP, the widest since 2009.
Economists asked whether this is adequate to counter the slowdown and safeguard the government's GDP growth target of "around 7 percent".
Lou said the actual budget deficit will be about 2.7 percent of GDP, or 1.83 trillion yuan this year, after incorporating carry-over funds from previous years and budget stabilization funds.
He said local governments are allowed to have a 500 billion yuan deficit this year - up from 400 billion yuan last year - and a 100 billion yuan "special debt". The 600 billion yuan deficit will be addressed by issuing local government bonds.
Lou admitted there is pressure on revenue, which he said could grow at a single-digit rate for a long time, adding that spending growth is "rigid".
"You raised a question that is difficult for me to answer," he said when responding to one journalist. "'Rigid' doesn't mean we cannot adjust. We have cut some unreasonable spending - for example, subsidies on energy-saving products."
However, some observers doubt whether the course of action adopted can fill the gap left by curbs on off-budget capital spending, and expected falls in land sales revenue. Financing arms affiliated with local governments alone sold bonds worth 1.5 trillion yuan last year.
Societe Generale economists Wei Yao and Claire Huang wrote, "An increase of 600 billion yuan planned for on-budget local government debt probably won't offset an off-budget borrowing slowdown, dragging down infrastructure spending growth."