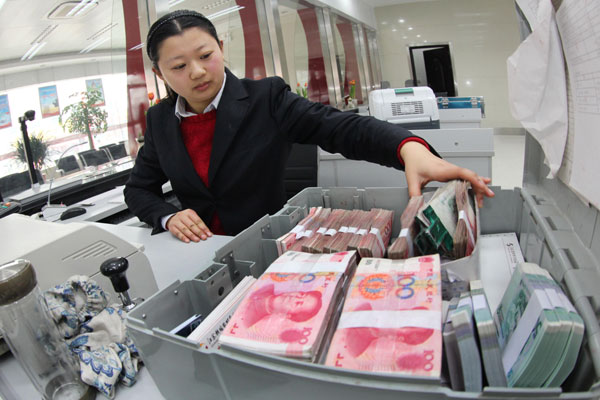 An employee prepares money at a commercial bank in Ganyu, Jiangsu province. New loans stood at 1.05 trillion yuan($169 billion)in March, up from an average of 981.8 billion yuan in January and February. SI WEI/CHINA DAILY
Many pessimistic analysts just see the slowdown in economic growth, but they ignore the positive changes taking place in the economy.
The Chinese economy grew 7.4 percent last year, the lowest since 1990, and it is predicted the speed of growth will decelerate further to 7.1 or 7.2 percent this year. The government is willing to sacrifice a certain rate of growth for the transformation of the country's economic structure, because as economic growth is slowing, the quality of growth is growing.
The slowdown of the Chinese economy is caused by multiple factors. The government stabilized the economy with huge investment from 2008 to 2010. But the stimulus package raised the whole economy's leverage ratio and boosted the fast rise of housing prices.
Reducing the financial leverage ratio is an important target for the new government. The prudent financial policies and tightening monetary policies implemented by the current government have played an active role in stabilizing housing prices and deleveraging the economy.
Also, China's economic growth has mainly come from the fast expansion of the secondary sector. But its industrialization has peaked in the past decade. Were it not for the financial crisis in 2008, the peak would have lasted till around 2015. However, the financial crisis greatly reduced the outside world's demand for industrial products from China, ending the industrial peak prematurely. Yet this has brought some positive changes to the restructuring of the Chinese economy.
The last round of financial and monetary stimulus packages stabilized economic growth. But their help to manufacturing was limited. The growth in manufacturing has mainly come from investment in fixed assets.