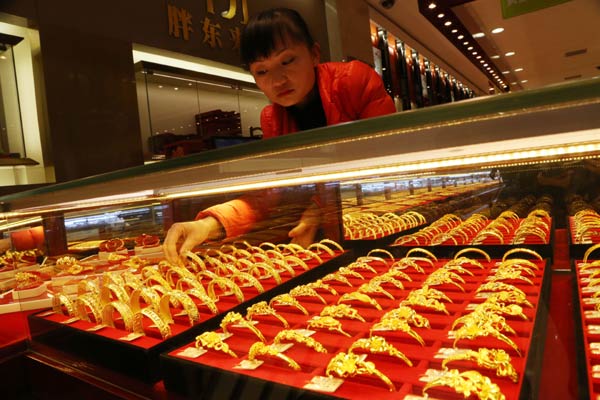 A clerk sorts gold jewelry at a shop in Xuchang, Henan province. [Geng Guoqing/For China Daily]
BEIJING - China's gold consumption tumbled 24.7 percent year on year to 886.1 tons last year, industry data showed Friday.
The plunge was mainly attributed to a drop in consumption of gold bars, which posted a year on year decrease of 59 percent and amounted to 155.1 tons in 2014, according to data released by China Gold Association (CGA).
The data also showed that consumption of gold jewelry went down by 6.9 percent year on year to 667.1 tons. Consumption for industrial use dropped 10.6 percent to 43.6 tons in 2014.
China produced 451.8 tons of gold last year, an increase of 5.5 percent, or 23.64 tons, compared with 2013, according to the association.
China is the world's largest producer of gold.