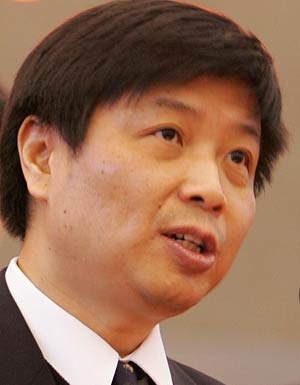 Bi Mingjian, CICC's former investment banking head.
Appointment seen smoothing the way for planned IPO in Hong Kong
China International Capital Corp, the once-dominant investment bank that has lost ground to rivals, hired its former investment banking head as chief executive officer, people with knowledge of the matter said.
Bi Mingjian is set to replace Levin Zhu, son of a former Chinese premier, the people said, asking not to be identified before a public announcement. The appointment needs regulatory approval, one of the people said.
Zhu resigned in October ahead of a planned initial public offering by the firm.
Bi's appointment should help clear uncertainty about the firm's leadership and smooth its plan for an initial public offering this year, one person said. He faces the task of building new businesses to win back market share from domestic rivals such as CITIC Securities Co and Haitong Securities Co, according to Bob Dodds, who worked at CICC with Bi for seven years.
"He was one of the top three senior managers at the time when CICC was in its glory days," said Dodds, the Hong Kong-based founder of DRP Capital Ltd, which advises on Chinese acquisitions. "The challenge is to address the new market situation in China where it got more competitive."
Bi, who is now a partner at private-equity firm Hopu Investment Management Co, could not immediately be reached for comment. Sherry Tan, a Beijing-based spokeswoman for CICC, declined to comment.
Bi stepped down as CICC's investment-banking head in late 2005, with his responsibilities assumed by new committees formed by Zhu the following year, the people said. He later acted as a senior adviser to CICC's US office.
Under Zhu, CICC succeeded for several years in helping big State-run companies raise capital overseas. But as China deregulated its financial markets, CICC was overtaken by its rivals, which invested aggressively in new areas of business.
"The business model of doing large-sized IPOs for State-owned enterprises has already run its course," said Dodds, who left CICC in 2004. "They've got to develop new products and new revenue sources."
CICC ranked 13th in arranging domestic equity sales last year, slumping from third in 2013, data compiled by Bloomberg showed. It ranked first in 2009 and 2010.
Bi's appointment may put CICC's Hong Kong share sale back on track. Set up in 1995, the firm has been planning an IPO that may value it at more than $3 billion, people with knowledge of the matter said last year.
The lack of a permanent replacement for Zhu could make the approval for the listing more difficult, people said in October. Zhu left CICC to seek other opportunities, according to an internal memo in October, and he told Bloomberg News in November he was taking a break.
In a letter to employees posted on news portal Sina after his resignation, Zhu said that his departure would help the company's long-term development and "create a smooth transition and succession for the management". He said he was "passing on the relay baton" to the management team.