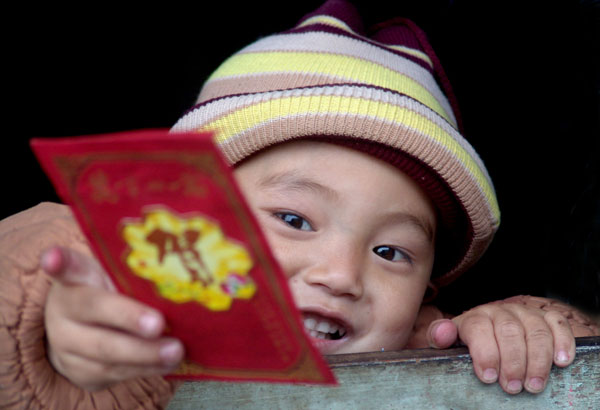 A Chinese boy holds a hongbao, a red envelope filled with money that are traditionally given out on special occasions, especially during Spring Festival on Feb 21, 2007 at Xinshao county, Hunan province. [Photo/Asianewsphoto]
Red envelopes containing cash, or hongbao, which are given as gifts during Spring Festival, are set to get fatter this year with a growing number of Chinese people willing to loosen purse strings amid confidence that the nation's economic growth will remain stable for the full year, a survey said on Thursday.
The survey revealed 68 percent of respondents said they intend to increase the amount spent on red envelopes this year compared to 2014. On average the per capita spending on red envelopes for 2015 is estimated at about 3,168 yuan ($507).
Published by the United Overseas Bank Ltd, the survey polled 1,000 residents in Beijing and Shanghai.
A resounding 90 percent of the respondents said they would maintain or increase their New Year spending, and said they are likely to increase their spending in all categories for red envelopes, ranging from food to travel, as they remain optimistic on economic prospects for 2015.
Giving red envelopes is a tradition for Chinese families during the Lunar New Year and is considered a gift as well as a seasonal greeting. A red envelope for a child may come from parents and grandparents, other family members and relatives, and friends of parents. When the child grows up and has an income, he or she may give red envelopes to parents and grandparents, and children of siblings and friends.
For those who receive red envelopes, they do not just save, but also invest the money. About 66 percent said they would put the money into a savings account, while 45 percent said they would use the funds for investment.
Parents are also more generous when it comes to giving red envelopes for children.
"When I was a child, my mother collected the red envelopes given to me, and used the money for gifts to others, such as her friends' children or her cousin's daughter. But after I became a mother, I want the red envelopes given to children to belong to them. I will help my son manage the money, or allow him to spend some on his favorite books or toys," said Ma Yuzhu, a 31-year-old Shanghai resident.
About 62 percent of the polled parents said they would use some of their children's red envelopes to open a savings account for the child, and 43 percent said they will spend some money on the child. Only 6 percent said they would keep the money for themselves.