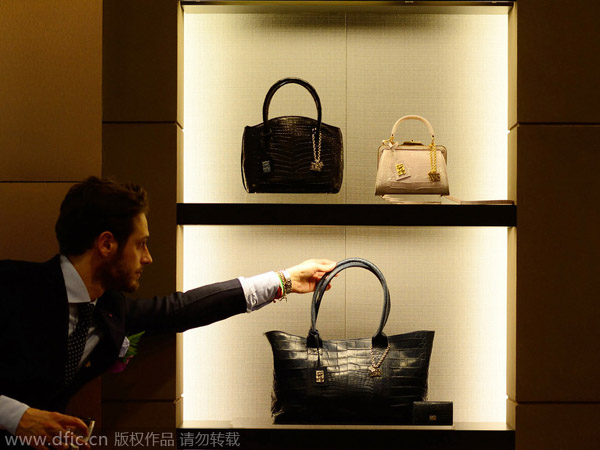 A employee puts a handbag on the display shelf in a store in Hangzhou, Zhejiang in May 18, 2013. [Photo/IC]
Luxury brands had a tough time in China last year, with domestic consumers more willing to go overseas for bargains.
According to the 2014 China Luxury Report, which was released on Saturday by the Shanghai-based research center Fortune Character Institute, 117 million Chinese tourists visited abroad last year, a 20 percent year-on-year increase.
Total luxury purchases by Chinese consumers overseas rose by 9 percent to $81 billion, while luxury purchases in the domestic market declined by 11 percent to $25 billion.
"Luxury brands put a lot of weight on Chinese consumers, but not as much on the Chinese domestic market. This has somehow become an agreement reached unknowingly but simultaneously among many luxury brand managers," said Zhou Ting, director of the Fortune Character Institute.
"The world's leading luxury brands are gradually giving up the Chinese domestic luxury market. Apart from the fact that most Chinese consumers buy luxuries outside China, rampant fake products are one of the major reasons for luxury brands' lower confidence in the Chinese domestic market," she said.
According to Fortune Character Institute, counterfeit luxury products in China outnumber genuine items six-to-one.
The institute found that 76 percent of Chinese consumers' luxury purchases are completed overseas, an outflow that the research institute rated as "very serious".
Zhou added that many luxury brands are cutting marketing budgets in China, or transferring these budgets to other markets, suggesting the brands are disheartened with the Chinese market.
Consultancy firm Bain & Company found in its latest China luxury market study that 55 percent of Chinese luxury goods spending was made by consumers during overseas trips and another 15 percent was made through friends, relatives or professional agencies.
Overseas markets are also soliciting more Chinese consumers. French Prime Minister Manuel Valls said during a visit to Shanghai on Jan 31 that some department stores in France are planning to open on weekends to attract more Chinese tourists.
The Spanish department store chain El Corte Ingles will also hold celebrations for the upcoming Spring Festival this year, as well as provide coupons and special discounts.
Ding Haozhou, chief executive officer of Zonfa Commercial Management Group, said local authorities have noticed the outflow of luxury spending, and the recent tax refund policy is an attempt to retain such high-end consumption within China.