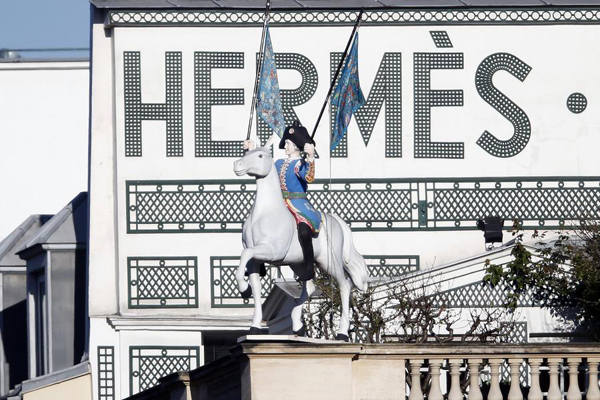 A view shows a horse rider waving two Hermes scarves in front of the logo of French luxury group Hermes on the group's headquarters building roof in Paris, March 20, 2014. [Photo/Agencies]
The Chinese luxury market showed for the first time negative growth in 2014, according to consultancy firm Bain & Company's latest study released in Shanghai on Tuesday.
Based on a survey of 1,400 respondents, Bain & Company discovered that China's luxury market is undergoing a fundamental shift, brought on by evolving customer dynamics, an influx of new, emerging luxury brands, and an ecoNo mic slowdown.
Chinese shoppers spent around 380 billion yuan ($61.13 billion) on luxury products worldwide in 2014, up 9 percent year on year.
Among these expenditure, 30 percent are completed within China, contracted 1 percent slightly year on year.
Watches saw the biggest sales slump of 13 percent while men's wear recorded a 10 percent decline in the past 12 months, particularly at more premium price points. This can be largely attributed to the continued impact of anti-corruption and frugality campaigns undermining luxury gifting.
Customer segments are No longer clear-cut, with common behaviors observed across demographic groups. Instead, there is an increased diversity of preferred brands, and exclusively, quality and value for money without logos are becoming increasingly important.
About 70 percent of the respondents said they would like to try different brands and styles. Nearly 45 percent of the polled said they have plans to buy more emerging brands in the next three years.
Related story
Top 10 favorite luxury brands of Chinese women by chinadaily.com.cn
From Mitsukoshi Department store in Tokyo to Harrods in London, store owners have new favorite customers, the Chinese. Chinese customers and their fascination and appetite for luxury good is legendary. Over 30 years of ecoNo mic growth has afforded them more dispensable income and they are willing to spend more to improve quality of life. Chinese people love to travel overseas and they rarely come home empty-handed. Here are top 10 luxury brands favored by Chinese customers.