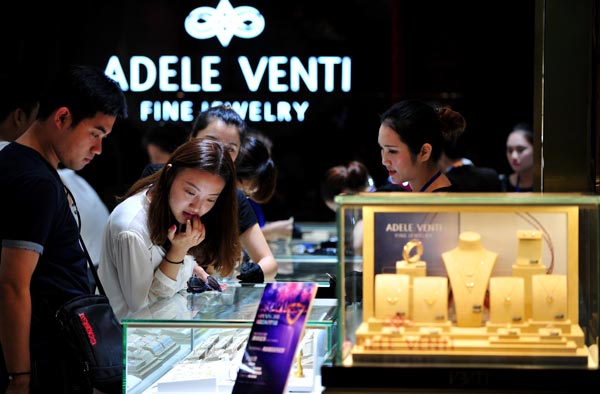 Tourists examine jewelry at a duty-free shop in Sanya, Hainan province. China's luxury market shrank slightly last year. [Photo/Xinhua]
Purchases slowed last year amid slower growth, brand proliferation
Sales of luxury goods slowed in China during 2014, with the growth rates falling for the first time amid slowing economic growth and brand proliferation, a new study said on Tuesday.
China's luxury market is undergoing a fundamental shift, brought on by evolving customer dynamics, an influx of new, emerging luxury brands, and an economic slowdown, said the study released by global consultancy firm Bain & Co.
Based on a survey of 1,400 respondents across China, Bain said shoppers spent around 380 billion yuan ($61.13 billion) on luxury products worldwide in 2014, up 9 percent year-on-year.
Of this, about 30 percent of the purchases were made within China from brick-and-mortar stores and online shops. However, the total consumption fell by 1 percent on a year-on-year basis to 115 billion yuan, marking the first time that the domestic luxury market has shown such low growth numbers.
Among luxury goods, watch sales fell by 13 percent, the biggest among all categories, while men's wear purchases declined by 10 percent during the same period, particularly at premium price points. Leather goods sales remained flat for most of last year.
The slump in luxury goods sales are primarily a result of the ongoing anti-corruption and frugality campaigns, factors that have undermined luxury gifting, said Bruno Lannes, a partner with Bain.
Though jewelry sales showed a 2 percent growth in 2014, the sale of high-end products especially for women fell sharply. The growth in mid-level product sales, however, helped offset the weakness in higher-end products, said Lannes.
Last year also saw the highest number of store closings by luxury brands in China, with men's categories being the most affected, he said. Hugo Boss closed seven stores in China and Zegna six.