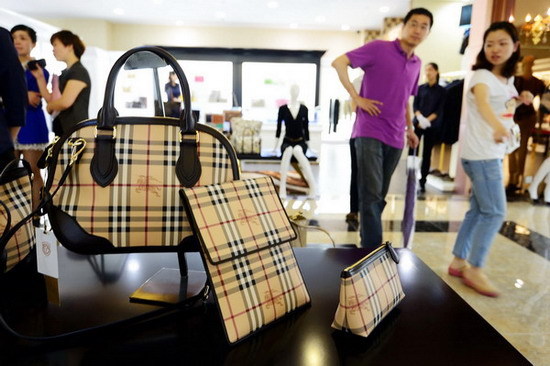 China has been an important market for global luxury brands. [Photo / For China Daily]
Most of the well-established brands remained conservative on new store openings after witnessing a decline in like-for-like sales. Emerging brands, on the other hand, were more aggressive in new store openings, the report said.
More than 80 percent of the respondents said they were more interested in emerging luxury brands and styles, with 44 percent keen on buying more emerging brands in the next three years. This is largely because the Chinese consumers are becoming more sophisticated, better informed and weighing purchase decisions on the design of the products, said Lannes.
Brands such as Balenciaga, Michael Kors and Jimmy Choo are gaining more popularity with Chinese consumers, the report said.
Fang Jinqi, a 32-year-old real estate agent from Shanghai, bought two pairs of Jimmy Choo high-heels and one pair of Balenciaga high-heels during her four-day trip to Japan in October.
"These brands are becoming better known in China. Even though they are expensive, the design of the products is undoubtedly top notch and some of them are worth collecting, even if not for daily use," she said.
Fang's choice of shopping in Japan also echoes with Bain's finding that South Korea and Japan were the most popular shopping destinations for Chinese consumers in 2014. The study said that the number of tourists from China to these two countries rose by 61 percent year-on-year. The appreciation of the renminbi against the Japanese yen is another major reason for the increased popularity of shopping in Japan.