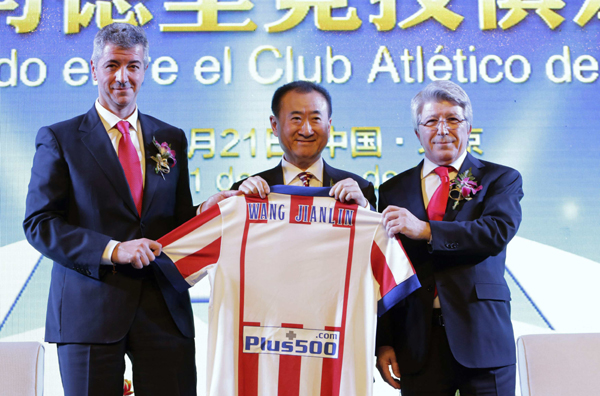 Wang Jianlin (C), chairman of Dalian Wanda Group, holds an Atletico Madrid jersey with his name, to pose for a photo with Atletico Madrid's President Enrique Cerezo (R) and managing director Miguel Angel Gil after a signing ceremony in Beijing, January 21, 2015. [Photo/Agencies]
China's top real estate developer Wanda group announced an investment of 45 million euros ($52 million) for a 20 percent of stake in the Spanish football Club Atletico Madrid, marking the first time that a Chinese company has invested in a top flight European football club.
Wang Jianlin, chairman of the Dalian-based property giant, said that the deal is expected to give more golden opportunities to young Chinese football players and provide them with more exposure to the worlds top tier football clubs. He also said that it can help promote China's football industry.
The two partners will jointly invest 30 million euros to build youth training centers in Madrid.
As part of the agreement, Atletico will be responsible for drafting a plan specifically for the growth of Chinese grassroots football players.
"I wouldn't say it is impossible for Wanda to acquire another football club in Europe if this partnership goes well," Wang said. "We want to train more homegrown football players and narrow the gap between China and the rest of the world."
Atletico Madrid is one of the world's leading football clubs. It has won La Liga, the first division of the Spanish football league, on ten occasions, most recently in 2013 and 2014. The team a finalist in the UEFA champions League during the same season(s).
By 2017, Wanda aims to invest 20 million euros every year to sponsor about 180 young Chinese players in Spain, Wang added.
Related stories
Wanda chief survives poor IPO by  Xie Yu
Wang Jianlin ranks 3rd on Asia's rich list, trailing Li Ka-shing and Jack Ma
A poor performance by Dalian Wanda Commercial Properties shares on their Hong Kong debut is expected to merely dent the personal wealth of Wang Jianlin, chairman of holding company Dalian Wanda Group.
His ranking as the second-richest man on the Chinese mainland is widely thought to have remained unchallenged.
However, the unexpected shares setback has put him further behind Jack Ma of Alibaba on the rich list.
Dalian Wanda, which raised $3.7 billion in the largest initial public offering in Asia, fell on its first day of trading on Dec 23.