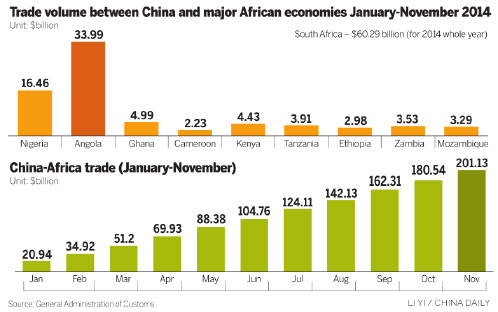 As Africa presses on with industrialization and urbanization, it is buying more of the machinery and consumer goods from China that it needs to make these two things happen.
Even though serious price fluctuations in commodity markets affected both economies and market demand last year, trade between China and Africa was worth $201 billion in the 11 months to November, up 5.3 percent year-on-year.
Cao Jiachang, deputy director-general of the department of Western Asian and African Affairs at the Ministry of Commerce, says this is largely because many African countries have turned to other goods to trade with China, such as agricultural products, clothing and chemicals, as they are keen to further reduce the continent's heavy reliance on natural resources.
"China's exports to Africa are shifting toward products with higher technical content, such as mechanical and electrical products, motorcycles, televisions, better building materials for housing and other infrastructure items, mobile phones and telecommunications equipment," Cao says.
Africans' purchasing power has greatly improved in recent years, thanks to the rapid pace of urbanization, a relatively peaceful development environment and more government funds for industrial projects and efforts to raise the tandard of living.
At the same time, Chinese products have had the advantage of being cheap but of good quality. Many Chinese companies such as the car maker Lifan Group from Chongqing and shoemaker Huajian Group from Guangdong have moved to establish their brands and standards in Africa.
"We have also seen renewed interest from Chinese companies in investing in sectors such as steel, cement, electronics, clothing and automobile assembly lines," Cao says.
Diao Chunhe, president of the China International Contractors Association in Beijing, says: "China's project contracting businesses in Africa have also increased exports of mechanical and electrical products to the continent."