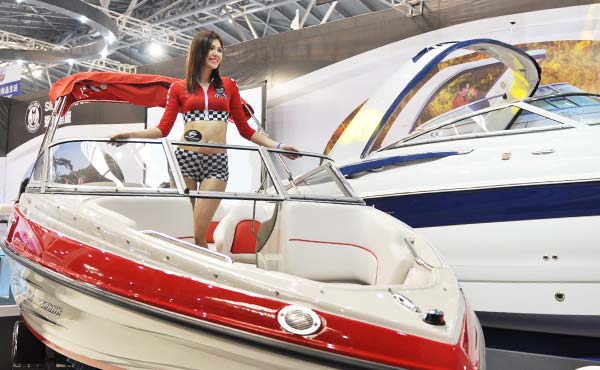 Yachts on show during China (Shanghai) International Yacht Show in April,2013. The yacht market in China, especially in the Yangtze River Delta region, where there is abundant water, is expanding rapidly. Small yachts are very popular in the Chinese market. [Photo/Provided to China Daily]
BEIJING
- The gross product value generated by China's marine industry in 2013 was 5.4313 trillion yuan ($884.9 billion), up 7.6 percent year on year, according to a report released by the country's
maritime
authority on Tuesday.
However, development of the shipping industry and sea salts industry continued to decline, said Shi Qingfeng, spokesman with the State Oceanic Administration.
Shi said that in 2013, gross oceanic production accounted for 9.5 percent of the country's GDP, and 35.13 million people worked in ocean-related jobs.
Affected by the international market, China's shipping industry in 2013 showed a declining trend in profits and exports, with added value down 7.7 percent year on year, Shi said.
The added value of the sea salt industry in 2013 declined by 8.1 percent from 2012, affected by rainy weather, weak downstream industries and increased imports of sea salts, according to Shi.
Rising tide in sales of smaller marine crafts