Zhoushan denies reports of looser housing controls
Housing regulators in Zhoushan, a city in Zhejiang province, on Tuesday denied media reports saying they had loosened home purchase restrictions.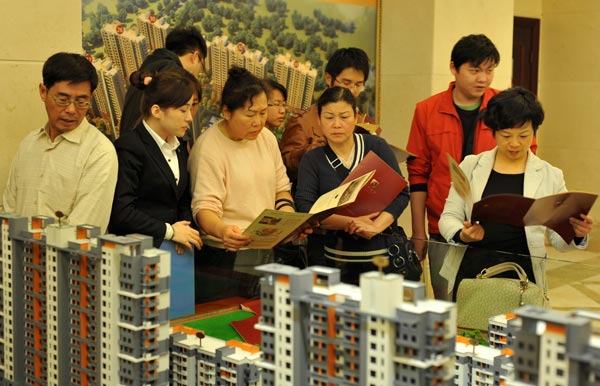 Potential homebuyers look at models of residential property in Zhoushan, Zhejiang province. Provided to China Daily
Local housing authorities said that the restrictions are still in place, but that they are carrying out a study on the demand of local residents who want to move to other districts in the city for their children's education needs, China Business News reported.
An insider who asked not to be identified told China Daily that Zhoushan authorities wanted to relax restrictions for a specific group of homebuyers, but that there's a possibility that the changes may not happen after the media reports.
On Monday, the media reports said that Zhoushan's government planned to allow families to buy one new apartment this year, regardless of how many houses they already owned. Zhoushan would become the second city in Zhejiang province to relax policy bans on home purchases, which were implemented nationwide in 2011.
"The city's new policy will be published within two months, according to which all families that haven't bought a flat this year can buy one," Chen Lina, an officer at Zhoushan's housing administration bureau was quoted as saying in the media reports.
As a third-tier city, Zhoushan doesn't fall into the central government's purchase restriction categories, and the city's real estate market is now stable after two years of development, Chen added.
The situation is being keenly watched by local real estate firms.
"I don't know the details, but I was told by my superior that according to the new policy, families will be allowed to buy one more apartment now," a salesman at a residential project in Zhoushan told China Daily on Tuesday.
Analysts noted that there might be an excess of supply in Zhoushan.