Lenovo reigns as king of the hill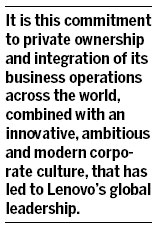 As China's economic indicators ebb, the nation's flagship personal computer maker, Lenovo Group Ltd, provided extremely optimistic news recently, overtaking Hewlett-Packard Co as the world's leading PC producer by volume.
This is all the more impressive given HP's seven-year reign, during which time it appeared to have cemented its position as the world's PC leader.
Lenovo's incredible rise also comes amid a general contraction in the PC market globally, where all the major players have seen their market shares decline.
How did Lenovo pull off this feat, and does it signal a change in Chinese company fortunes generally?
There are essentially two reasons behind Lenovo's rise: its modern corporate culture and a global strategy of growth via acquisitions.
To better understand Lenovo's corporate culture and how it differs from most large Chinese companies, it is important to trace the origins of the organization.
The State-owned Chinese Academy of Sciences provided seed capital for the company, but Lenovo has been managed much like a typical Western private company, with no government interference.
Over the years, many of Lenovo's most senior executives haven't been Chinese citizens, and expansion across Europe and the United States has involved the recruitment of local employees rather than the overseas posting of Chinese nationals.
English is the official corporate language and the current chief executive officer, Yang Yuanqing, moved to the United States with his family to improve his English.
Lenovo thus sets an example for China's companies especially the larger, State-owned enterprises.
Then there is the strategy of growth by acquisition and the focus on vertical integration. Lenovo hit the headlines in 2005 with its acquisition of IBM Corp's PC division, which gave it ownership of the IBM brand name.
The acquisition cost a reported $1.25 billion, and Lenovo also assumed $5 billion in IBM debt. This deal made Lenovo the third-largest computer maker worldwide by volume.
Since then, Lenovo has continued to acquire suitable targets. However, it is only the past two years or so that Lenovo has found significant success in this regard.
Perhaps the most significant post-IBM acquisition was that announced in June 2011, the takeover of Medion AG, a highly respected German electronics producer. It was the first acquisition of a German company by a Chinese organization.
The deal was sealed toward the end of 2011, after extensive due diligence by Lenovo. The transaction allowed Lenovo to seize 14 percent of the extremely lucrative German computer market.
Lenovo followed up with expansion into South America less than a year later. Lenovo had already established a presence in Brazil with its own manufacturing plant, but it felt the need to find a long-term local partner to gain a more sustainable market stronghold.
So in September 2012, Lenovo announced the takeover of Brazil-based electronics company Digibras Industria do Brasil SA, which operates under the brand name CCE. This deal further highlighted Lenovo's global ambitions and its strategy of "go global, act local".
It is this commitment to private ownership and integration of its business operations across the world, combined with an innovative, ambitious and modern corporate culture, that has led to Lenovo's global leadership.
Chinese industry as a whole should take pride in Lenovo's success and learn from its dramatic rise.
Post-acquisition integration, which accounts for the failure of six out of every 10 takeovers, is an area where Lenovo has excelled. One key reason is the move from an ethnocentric to a more geocentric approach, where employees' individuality is put before their nationality.
Chinese companies can learn the most here.
There are challenges ahead. The PC market is shrinking, with tablets and smartphone technology rising fast. However, Lenovo has proven time and time again that there are no limits to its growth, and the financial muscle is there to allow takeovers in the technology sector, whenever and wherever the opportunities occur.
The author is a researcher at Nottingham University's School of Contemporary Chinese Studies and Visiting Professor at China's University of International Business and Economics.