EU regulation enhances toy safety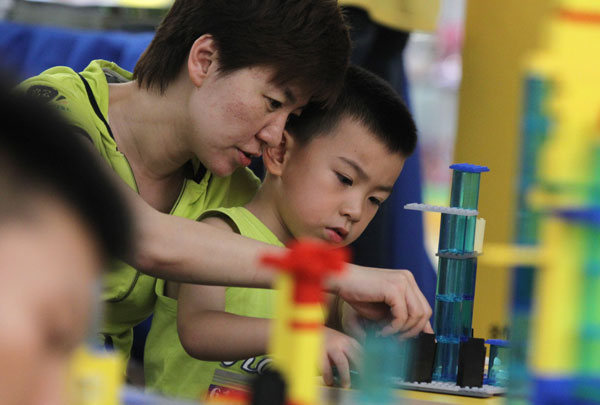 A European Union regulation on toys took full effect on Saturday, setting stricter restrictions on chemical content of toys, putting pressure on Chinese toy makers. [Photo / China Daily]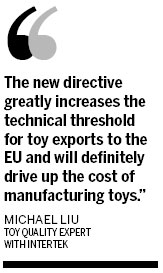 An updated European Union safety regulation on toys will place pressure on Chinese toy makers and affect the nation's exports to an already weakening European market, but could also provide an opportunity to upgrade the domestic toy industry, industrial insiders say.
The new toy safety directive, adopted by the European Parliament and the Council of the European Union in 2009, took full effect on Saturday.
The directive, 2009/48/EC, which took partial effect two years ago, sets stricter requirements on the quality of toys and manufacturers' obligations by adding more articles on the chemical content of products.
"The implementation of the new directive will pose a huge challenge for Chinese toy manufacturers to export to Europe, as it sets a much stricter threshold for entry to the market," said Xiong Xiaokun, a researcher on light industry at China Investment Consulting Co's industry research center.
China is the world's biggest toy producer and exporter, taking a two-third share of the international market. China exported toys worth $11.45 billion in 2012, including $2.6 billion to the EU, making the EU China's second-largest market for toys, according to the General Administration of Customs.
The new directive includes a number of new articles on toys' mechanical and electrical performance and chemical and hygiene requirements.
In particular, it sets stricter standards on the content of some chemical elements and bans many other chemicals, such as N-nitrosamine.
For example, 25 micrograms of arsenic, a poisonous substance that exists widely in nature but can cause cancer and damage the nervous system, were allowed in every gram of toy materials in the previous regulation. The new directive restricts the arsenic content to 0.9 micrograms per gram of toy materials.
"The new directive greatly increases the technical threshold for toy exports to the EU and will definitely drive up the cost of manufacturing toys," said Michael Liu, a toy quality expert with Intertek, one of the world's largest quality and safety solutions providers.
"For manufacturers, the real challenge facing them is to ensure the purchasing of environmentally friendly materials," he said.
Up to 80 percent of products from about 20 toy companies in Hangzhou, Zhejiang province, were unable to meet the new technical requirements, according to a survey by local industrial and commercial authorities.
To help enterprises better cope with the new directive, the General Administration of Quality Supervision, Inspection and Quarantine has offered 68 training sessions to more than 2,400 toy makers across China, the administration said.
The administration also organized institutes to intensify research on chemical testing and formulate methods to quickly test for major heavy metals in toys.