Property investment risks lower in nation's top cities
Shanghai was rated as the most promising city in China for property investment, while some cities in northwestern parts of the country, such as Longnan, Wuwei, Jiuquan and Dingxi in Gansu province, and Erdos in the Inner Mongolia autonomous region dominate the top slots in terms of real estate risks, a report has said.
Among China's metropolises, Shanghai scored the highest marks for property investment, followed by Beijing, while Longnan finished at the bottom, a report compiled by China Real Estate Information Corp said on Tuesday.
The report measured the property investment outlook of Chinese cities by analyzing a number of factors, including market demand and supply, market capacity, urbanization rate, population density, and the city's size.
"Many lower-tier cities rushed to develop property projects, but many of them have failed. This is part of the reason why we made this list. We want to make the rankings a reference for investors and developers and help them better understand the market situation in various cities," said Ding Zuyu, executive president of E-House (China) Holdings Ltd.
Northwestern cities are more risky for property investment. According to the report's findings, Erdos' risk is a result of excessive speculation, while Longnan is hit by its bad location - it's located at the nation's poorest area and has a shortage of water.
Mountainous areas in southwestern provinces have trouble attracting property developers. Guangyuan in Sichuan province was ranked as the 18th most risky city for property development.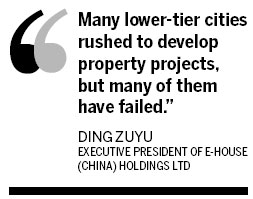 "If you draw a line that starts in Heihe, Heilongjiang province, and ends in Tengchong, Yunnan province, you'll find that the southeast region below the line takes up only 36 percent of the nation's total territory, but is inhabited by 94 percent of its population. And all of the top 20 promising property cities are located in that area," said Lin Bo, deputy general manager at the CRIC research center.
Due to the considerably higher average income of first- and second-tier cities in southeast coastal areas, demand in those cities is much stronger than in other cities, especially for medium- to high-end residential property, which lays a solid groundwork for the differentiation of various property products in these cities, said Lin.
Home prices in major cities are at reasonable levels due to the vigorous demand and limited long-term supply of residential property in first-tier cities. Furthermore, the steady growth in the average income of people in those cities and the slow home price increases under the macro tightening policy will act as a long-term support for local property markets.
Under the persistent tightening measures, China's property boom is losing steam. Transactions of newly built residential property in major cities declined substantially in the second quarter, said a report on Monday from the China Index Academy, a research institute owned by SouFun Holding Ltd, the country's largest real estate website.
Average residential land prices rose 27.6 percent year-on-year to reach 1,863 yuan ($301) per sq m of gross floor area across the nation's 100 major cities, the highest since the same period of 2008. This is the third consecutive quarter that saw residential land prices increasing year-on-year.
A total of 59 cities saw their residential land prices rise year-on-year, two less than in the first quarter, while the land prices of 28 cities declined year-on-year, with 13 cities reporting no land transactions during the period, the report said.