China's fiscal revenue rises 7.5% in H1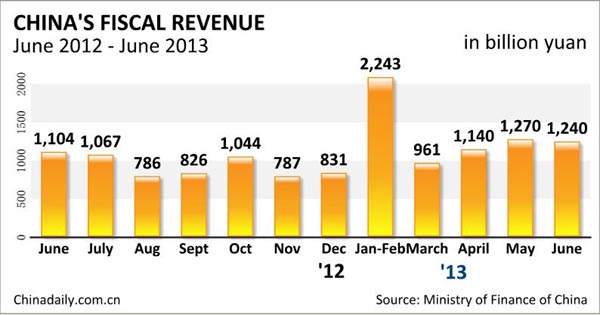 BEIJING
- China's fiscal revenue grew 7.5 percent
year on year
to 6.86 trillion yuan ($1.12 trillion) in the
first six months
of the year, according to data released by the Ministry of
Finance
on Monday.
The pace was 4.7 percentage points lower than the same period of last year, and slightly lower than the country's economic growth of 7.6 percent in the first half, said the ministry.
During this period, the central government's fiscal revenue rose by only 1.5 percent over the same period last year to 3.23 trillion yuan, making it difficult to achieve the full-year target of 7 percent.
The ministry said revenue from value-added tax, consumption tax and tariffs have either declined sharply or registered slower growth during this period, contributing to the slower growth in central fiscal revenue.
Local governments saw fiscal revenue for the first six months expand 13.5 percent from a year earlier to 3.63 trillion yuan, driven up by rising income from sharp increases in housing transactions.
In June alone, fiscal revenue reached 1.24 trillion yuan, up 12.1 percent from a year earlier, said the ministry.