China's H1 industrial output up 9.3%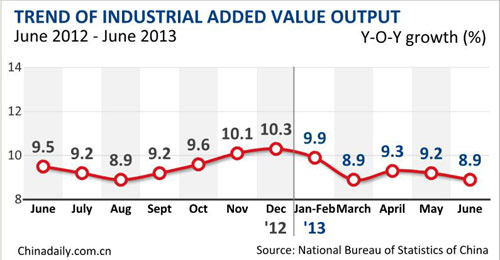 BEIJING - China's industrial output rose 9.3 percent year on year in the first half of 2013, according to the National Bureau of Statistics on Monday.
The pace was down by 0.2 percentage points from the growth rate in the first quarter this year, and further slows from a 10-percent full-year growth registered in 2012, the NBS data showed.
Value-added industrial output measures the final output value of industrial production, or the value of gross industrial output minus intermediate input, such as raw materials and labor costs.
In June alone, the industrial value-added output increased 8.9 percent year on year, decelerating 0.3 percentage points from the growth in May.
The total output in the industrial sector in June added 0.68 percent from the level of May, according to the NBS.
Analyzed by ownership, the industrial output of State-owned enterprises expanded 6.3 percent, while that of collectively-owned companies grew 1.7 percent, compared with 10.5 percent for stock-holding companies and 7.8 percent for overseas-funded firms.
Among the 41 sectors tracked by the bureau, 40 saw output growth in June whereas the output for the sector of transportation equipment manufacturing edged down 0.8 percent from the same period last year.
In June, the auto manufacturing sector grew 10.6 percent, down from a 13.3-percent output increase in May. General machinery manufacturing expanded 9.9 percent while the textile sector grew by 8.0 percent.
Meanwhile, the growth of electricity output increased 6.0 percent year on year to 425.3 billion kilowatt hours.
Steel output added 7.2 percent year on year to 90.84 million tonnes in June, while cement output increased 8.8 percent to 227.54 million tons. A total of 39.60 million tons of crude oil was processed during the period, up 10.8 percent year on year.
The bureau also said the sales-to-output ratio of China's industrial enterprises stood at 97.5 percent last month, 0.3 percentage points higher than last June. These companies delivered exports valued at 980 billion yuan ($158.9 billion), a nominal year-on-year increase of 2.1 percent.
Monday's official data also showed the growth of China's gross domestic product slowed to 7.5 percent in the second quarter, down from 7.7 percent in the first quarter.