China's exports 'continue to face obstacles'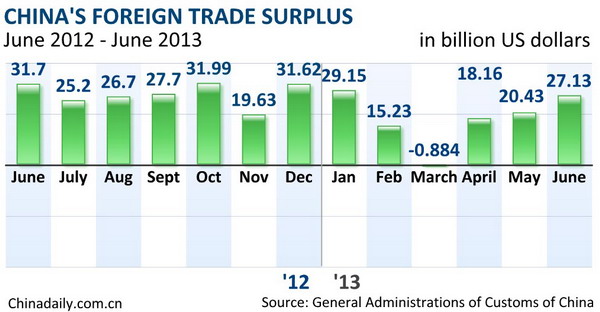 China's foreign trade is facing "severe challenges" and these difficulties will remain in the second half of the year, Zheng Yusheng, spokesman for the General Administration of Customs, told a news conference on Wednesday.
Exports in June declined 3.1 percent from a year earlier to $174.32 billion while imports edged down 0.7 percent year-on-year to $147.19 billion, leaving a trade surplus of $27.13 billion, according to the administration.
The first half of 2013 saw exports rise 10.4 percent year-on-year to $1,052.82 billion while imports increased 6.7 percent year-on-year to $944.87 billion.
External demand remained weak and constrained the expansion of exports while rising costs, including exchange rate and wages, kept weighing on domestic exporters.
In addition, trade friction slowing industrial activity at home reduced imports of raw material, Zheng said.
Chen Hufei, a researcher from the Bank of Communications, said that weak demands at home and abroad jointly accounted for the continued slowdown of China's exports and imports.