China's industrial output up 9.3% in April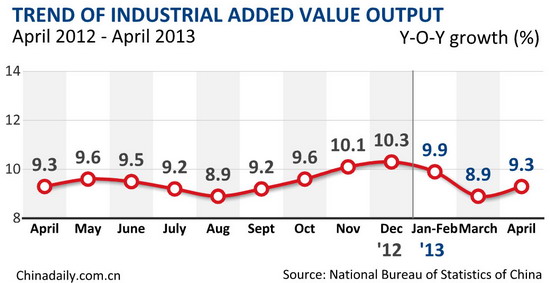 BEIJING - China's industrial value-added output rose 9.3 percent year on year in April, slightly recovering from March but showing slower growth than in the first quarter, heightening concerns over weakened growth momentum.
Analysts have called for more efforts in structural upgrades in the world's second-largest economy while cautioning against frequent macro-policy adjustments.
The April growth rate, identical to the same period last year, accelerated from the 8.9-percent growth seen in March, the National Bureau of Statistics (NBS) said on Monday in a statement on its website.
Value-added industrial output measures the final output value of industrial production, or the value of gross industrial output minus intermediate input, such as raw materials and labor costs.

In the first four months of 2013, total industrial value-added output increased 9.4 percent year on year, compared with a 9.5-percent growth rate registered for the first quarter of the year.
The industrial sector's output for April added 0.87 percent in comparison to March, the NBS data showed.
The April figures are in line with the previous diagnosis of a generally stable Chinese economy but call for a stronger endogenous momentum of growth, according to Wang Jun, analyst with the China Center for International Economic Exchanges (CCIEE), a government think tank.