M&A activities encouraged to tackle sectors' overcapacity, say guidelines
China has set a cautious industrial output target for 2013, as the top industrial regulator beat the drum once again on industry consolidation to tackle overcapacity.
The Ministry of Industry and Information Technology is targeting 10 percent growth in industrial output this year, unchanged from last year's target, said Zhu Hongren, the ministry's spokesman, at a news conference on Wednesday.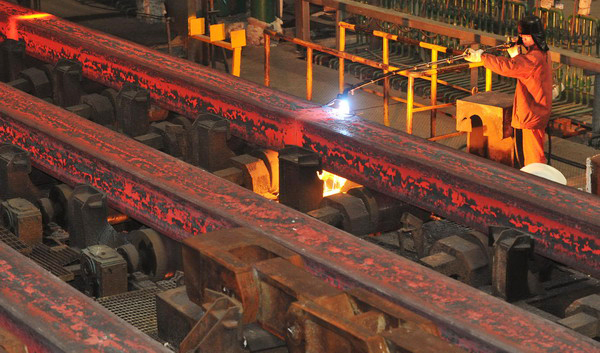 An alloy steel production line at a special-steel mill in Dalian, Liaoning province. China's industrial added value registered 10 percent growth in 2012 and is expected to stay at the same level this year, according to the Ministry of Industry and Information Technology. [Photo / China Daily]
Zhu said the target takes into account the changed industrial environment this year, its relation with GDP growth, and the internal cycle of the industrial economy.
"External demand will not recover in the short term, and the growth of domestic demand is constrained by several factors. Under this circumstances, it will not be easy to achieve the target in real terms," said Zhu.
China's industrial output rose 10 percent year-on-year in 2012, much lower than the previous year's 13.9 percent increase.
Industrial output growth slowed to 9.5 percent in the second quarter from 11.6 percent in the first, and further dipped to 9.1 percent in the third quarter, before it rebounded to 10 percent in the fourth.
Alaistair Chan, an economist with Moody's Analytics, said the country's industrial output growth would likely be slightly higher in the first half of the year, before slipping again in the second half, as the current growth base is weak and there isn't a strong-enough stimulus package from the government in place to maintain the momentum.
Meanwhile, overcapacity will keep haunting several heavy industries, Chan added.
For instance, China's machinery industry's output only grew 8.4 percent in 2012, compared with the 15.1 percent growth in 2011.
And China's steel industry had about 160 million metric tons of excess production in 2012, while 33.8 percent of China's steel plants are suffering from losses.
Previous reports
Ministry proposes more mergers in key industries
China unveils merger targets to upgrade industry
China's industrial output up 10.3% in Dec
Chinese outbound investment accelerates
M&A activities rising
Outbound M&A activity on the rise, survey says
HNA in talks with European carrier on possible acquisition
COFCO sows seeds of further overseas growth
Private firms take lead in overseas M&As