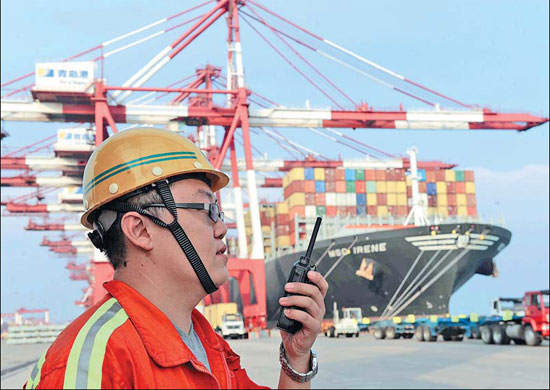 A worker supervises the loading and unloading of containers at Qingdao port in Shandong province. Participants at the 2nd Huatuo CEO Forum in Shanghai on Sunday said China's stabilizing economy will help Europe and the rest of the world. [Photo/China Daily]
Sarkozy says next two years will be 'prime time to invest' in continent
The former leaders of Germany and France told a financial conference over the weekend that a stabilizing Chinese economy will prove essential to economic recovery in Europe, as it continues to battle against financial uncertainty and an ongoing debt crisis.
Speaking at the 2nd Huatuo CEO Forum in Shanghai on Sunday, Gerhard Schroeder, former chancellor of Germany, and Nicolas Sarkozy, former president of France, both highlighted the important role that China will play in helping the troubled region over the next couple of years.
Schroeder, who cut taxes in Germany and reformed its labor markets as chancellor until 2005, said Europe "should thank China" for its efforts to support the global economy during the 2008 crisis and subsequent debt problems.
"But economic ties must be further strengthened, in terms of a larger share in each other's companies," said Schroeder, who has been credited by many economists as insulating Germany against the debt crisis that has now befallen southern Europe.
He added that Europe is open to Chinese investors and is interested not only in the capital it brings, but also its knowledge and technologies.
Sarkozy, the former president of France who lost in the election earlier this year to Francois Hollande, said that Europe was in the middle of a transition and will go through a "very tough two years".
He added: "It is because of the toughness of this, that we invite Chinese investors to choose Europe as their destination, as these two years will be the prime time to invest."
The sentiments of the two former leaders were shared by other speakers at the event, including Philipp Hildebrand, the head of the Swiss National Bank until January this year, who now oversees the largest institutional client relationships at New York's BlackRock, the world's largest fund manager.
Hildebrand told delegates that the eurozone is back on the road to rehabilitation, but agreed with Sarkozy that a full recovery won't take place in the next year or two, until fiscal reforms have worked their way through the various affected economies.
"In this environment, it will be very helpful if the rest of the world economy is robust," he said.
"So it is very good news for Europe that the Chinese economy has only seen a temporary slowdown, and data suggest that it is reaccelerating somewhat," said Hildebrand.
The eurozone was rocked again last week after France was deprived of its triple A rating by the international ratings agency Moody's, raising further concerns that the debt crisis may further deteriorate.
In contrast, China, the world's second-largest economy, is expected to see a slightly warmer winter after a series of indicators showed gradual economic improvement, including a purchasing managers' index that rebounded to above the critical 50 level, and industrial added value that has seen growth for three consecutive months.
China Business News reported on Monday that this year's Central Economic Work Conference will be held in December, which is expected to set the path for next year's economic development, and which may set the growth target for 2013 on par with that of this year at 7.5 percent.
A report by PricewaterhouseCoopers showed that in the first quarter of this year, the direct investment made by Chinese companies exceeded that by European companies in China for the first time.
Since 2011, China has conducted 32 merger and acquisition deals in Europe, having a total value of 11 billion euros ($14.26 billion). In the corresponding period, there were 26 M&A deals by European companies in China, totaling 7 billion euros, the report showed.
Helene Rives, head of the China business group at PwC, said the "sluggish European economy has created M&A opportunities for Chinese investors" and that the lingering uncertainty in the eurozone had increased their chances of securing favorable deals with debt-laden European companies that were until now inaccessible.
Schroeder said he thought the M&A trend - which reflects an increase in the power of China's industrial sector - will be a long-term phenomenon.
He added that Germany, which was the top destination for Chinese investment in Europe in the past 15 months, would also remain an attractive market, with its skilled labor force and developed manufacturing sector.
But Hildebrand said although some eurozone countries will become stronger competitors amid the fiscal adjustments, more optimistic signs are needed if Europe is to attract more investments.
Also at the forum, former British prime minister Gordon Brown said he has seen a boom in Chinese infrastructure investment in Africa, Europe and America, and he expects more to be made by private companies, which will play an important role as funding sources.
He also encouraged countries to intensify cooperation to overcome the current turmoil.
"The current global economic challenges were neither a result of manipulated currencies nor trade protectionism," Brown said.
"They are because we are in the process of an unprecedented change globally, which was even bigger than the industrialization in the UK."
The change Brown referred to was a transfer in the world's economic gravity, which was reflected in a comparison of production, export and consumption between the West and East.
He said that in 2010, the majority of world production and export was for the first time accomplished in Asia and emerging markets, rather than the US and Europe, and added that similar changes will now appear in consumption.
Robert Mundell, professor of economics at Columbia University, who is also a Nobel laureate, added he thought China's annual future growth would average 7 to 8 percent, rather than the 10 to 11 percent of recent years.
He said China should continue to ease monetary policy but refrain from cutting lenders' reserve requirements, relying more on increased consumption to offset declines in exports.
"The EU and US can do very little because of their shortages in demand, thus China is the only country which has the room for expansion in monetary supply," Mundell told the forum, adding China should allow wage increases to boost consumption.
However, Peng Wensheng, chief economist with the China International Capital Corp Ltd, said China's monetary policy is unlikely to become much more accommodative in 2013 because the growth momentum of the private sector remains weak.
"China's monetary stance may still be stable but fiscal measures will be more supportive," Peng said, adding that the government may increase its deficit level next year.
weitian@chinadaily.com.cn