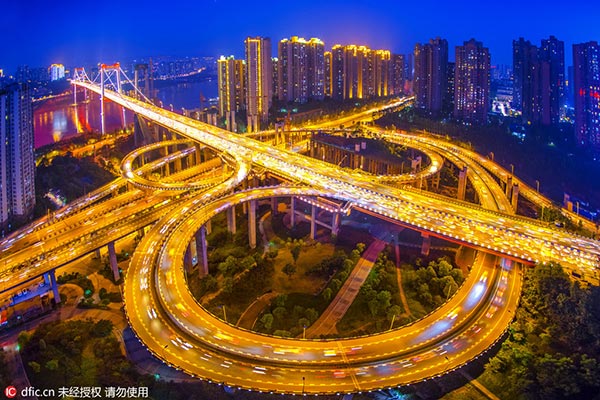 Night view of the crossings of the Egongyan Elevated Highway in Chongqing, May 29, 2016.[Photo/IC]
Southwest China's Chongqing municipality is expected to be chosen in the third batch of free trade zones (FTZs), Shanghai Securities News reports.
Some of the FTZs have completed related procedures and the result will be announced at a proper time, insiders told the newspaper. Among them are Chongqing and Guangxi Zhuang autonornous region.
According to the filing, Chongqing FTZ, with a coverage of 120 square kilometers, comprises three parts - Liangjiang New Area, Chongqing West Logistics Park and Chongqing Microelectronics Park.
Liangjing New Area has three pillar industries, including automobile, electronic information and high-end equipment. It will focus on nine strategic emerging industries, such as new energy and smart cars, display panels, integrated circuits, cloud computing, the Internet of Things, robots, as well as finance, exhibition, e-commerce and modern logistics.
The Jiangbeizui Central Business District, located in Liangjing New Area and dubbed the "Lujiazui in the upper reaches of the Yangtze River", covers 5 square kilometers and is the only national strategic financial center in West China.
China has four pilot free trade zones, located along the country's developed east coast.
In August 2013, China established the first pilot FTZ in Shanghai. In April last year, three more FTZs were established in the southern province of Guangdong; the Tianjin municipality in the north and another in the southeastern province of Fujian.
Earlier, media reported that 21 provinces, municipalities and autonomous regions all put forward cases to establish free trade zones. However, industry experts predicted inland areas and provinces along the Belt and Road would get priority.