Private firms take lead in overseas M&As
Updated: 2012-11-14 09:51
State-owned companies' share of total deals abroad declines to 38%, says KPMG report
Private Chinese enterprises, despite having relatively little capital, took part in more overseas mergers and acquisitions than their State-owned counterparts did in the past three quarters.
That helped diversify the country's channels for making outbound direct investments.
The global accounting firm KPMG LLP, in a report on China's economic globalization released on Tuesday, said private Chinese companies are an emerging force in the overseas investment market.
In the third quarter of the year, private companies took part in 62.2 percent of the M&A deals that involved Chinese companies during that period, up from 50 percent during the first half of this year, the report said.
Private investors have been making far more overseas M&A deals in the past four years, with their proportion of the total going from 44 percent to more than 62 percent. At the same time, that of State-owned companies went from 56 percent to 38 percent, the report said.
"Unlike State-owned enterprises, which tend to concentrate on acquisitions in the energy and finance industries, private companies' M&A deals have become increasingly varied," said Peter Fung , chairman of KPMG Global China Practice.
Many observers estimate that Chinese capital will keep flowing in greater amounts into developed markets, going into the service, high-end manufacturing, materials and media industries, among others.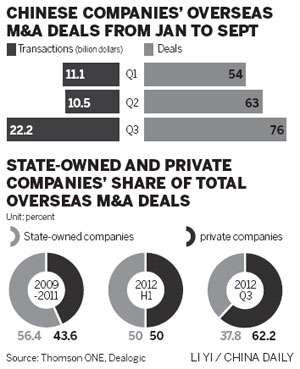 Fung said China's investments into the European Union and the US have continued to increase at a fast pace during the last three months.
Data from the Ministry of Commerce show that China made $52.52 billion worth of non-financial investments overseas from January to September, up 28.9 percent year-on-year.
During that time, the country's investments in the US increased by 14.3 percent from the same period of last year, while those in the European Union declined by 30.3 percent.
Private enterprises are likely to find it easier to seize opportunities in global markets in the next five to 10 years, the report said.
M&As are the usual means Chinese companies have, when they go abroad, of promoting technology research and development, getting their brands better recognized and quickly expanding their sales channels, it added.
In May, Sany Group, a maker of construction equipment, spent 324 million euros ($411.6 million) on Putzmeister, a German manufacturer of concrete machinery.
The transaction was completed through cooperation with CITIC Private Equity Funds Management Co Ltd, an affiliate of the State-owned investment company CITIC Group.
On the sidelines of the 18th National Congress of the Communist Party of China, Liang Wengen, chairman of Sany, said the company will continue to seek M&A opportunities in the EU market.
The third largest of the M&A deals Chinese enterprises reached over the past three months came from the Shanghai-based Cathay Fortune Corp, which paid $79.3 million in August to buy a 12.8 percent stake in the Australia-based mining company Discovery Metals Ltd.
The report warned that private enterprises' lack of investing experience might subject them to risks while they try to arrange M&A deals abroad.
It also said more than 23 percent of private investors who want to invest overseas must contend with capital shortages and high financing costs.
China Aigo Entrepreneurs Alliance, an association that helps private companies navigate international markets, was established in March by Feng Jun, the founder of the consumer electronics company Aigo Digital Technology Co Ltd.
"Going out by yourself if you are not very familiar with (a situation), it's very hard from the management perspective," Reuters once quoted Feng as saying.
"While SOEs can count on institutional support from the government, private firms are more often left to fend for themselves and the (Aigo Entrepreneurs Alliance) can fill the gap."
baochang@chinadaily.com.cn