'Massive overseas mergers' on horizon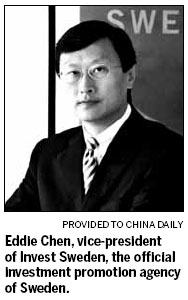 The slowdown in China's overseas investment growth and some reported losses will not affect the pace and confidence of domestic companies going global, and the nation's investors will eventually reach their goals in developed markets, said Eddie Chen, vice-president of Invest Sweden.
"China's strategic focus was to attract foreign investment in the 1990s, and inbound investment and outbound direct investment has struck a balance in the first decade of the 21st century," Chen said in an interview on Friday.
"This decade we will see massive overseas mergers and acquisitions by Chinese enterprises."

Today's Top News
Editor's picks
Most Viewed