Sourcing top-notch talents for China Inc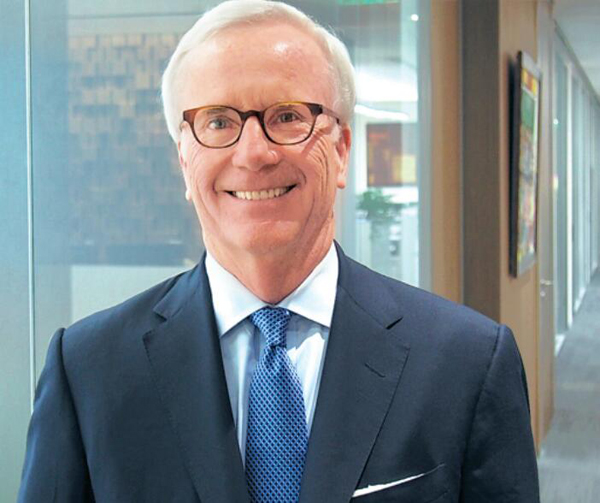 Kevin Connelly, managing partner and CEO of Spencer Stuart, an executive search and leadership consulting firm. FILE PHOTO
Leadership expert excited about the 'extraordinary opportunities' for local recruitment
Kevin Connelly, a seasoned corporate headhunter and managing partner and chief executive officer of US-based global headhunter Spencer Stuart, said he felt quite excited about fresh developments in his industry. He and his colleagues have been successfully using their expertise to source professionals globally for Chinese State-owned companies.
Connelly said that a significant change in the mainland's recruitment industry in recent years was that Chinese companies were still sustaining high rates of growth while many leading mainland enterprises were looking to go global.
That development, he said, laid down the challenge for them to continue developing leadership teams at home to support both the domestic and global expansion of their businesses.
The executive search and leadership consulting firm has a global coverage of 59 offices in 29 countries. The company has been operating in the Chinese mainland for over 25 years, having set up offices in Beijing and Shanghai in the early 1990s. Its Hong Kong office was set up in 1976.
Recently, he talked with China Daily about industry changes and business opportunities they were observing and their market strategy, especially for the Chinese market. The following are edited excerpts from the interview:
How do you assess the role of the Chinese mainland market in your global business strategy? Do you intend to increase investments this year?
The China market is very important in our global business strategy and our business in China has changed from serving, in large part, multinational companies to much more State-owned and private enterprises-especially over the past 10 years.
We are very committed to the continued growth of our business in China and we are looking to add more people in our business, both in Beijing and Shanghai. In the future we may open additional offices in China.
What business opportunities do you see, as China promotes the Belt and Road Initiative?
Many of us outside China admire the project because the strengths of the investment China has made are real models for the rest of the world. From a business perspective, the initiative will encourage investment in infrastructure and that is essential for continued growth globally.
What do you think of the flows of management personnel in China, compared with Asia in general, the European Union and the United States?
The significant change is that many major Chinese enterprises are looking to go global, especially in recent years. That generates the challenge-how can Chinese companies continue to develop the leadership teams that they have in China, to support not only the business at home but also their global expansion?
If you consider other regions, the challenges are probably similar. But the bigger challenge in China is that although its economic growth has been slowing down, it continues to grow domestically far faster than elsewhere.
What are the challenges and opportunities facing your industry at this stage?
The pace and degree of restructuring that all organizations face has accelerated and is greater than it has ever been in the past, so the leadership of organizations has to be more capable either to adjust the culture of the organization or to align with the new imperatives the company needs to pursue, to remain competitive.
People working in the changing environment are deeply affected and leaders are required to help people get through that.
That continuous and rapid change fuels opportunities for us and also for client organizations, once they respond well.
How do you define and achieve the competitiveness of your firm in the industry?
We think people matter the most, given the nature of our business, and we do have lots of criteria on intellectual capital and great systems of processes.
We place a tremendous emphasis on attracting, retaining and developing the very best people in our profession.
How does your current focus vary from your strategy before?
Historically we have been much more focused on finding top professional staff, helping companies source people from outside the organization and bringing them into the organization, which remains our core business model.
But increasingly we are moving to leadership consulting, using our assessment capabilities, team effectiveness capabilities and culture fit capabilities to help our clients address many of the changes they are facing in their business.
What are the general criteria that employers focus on when hiring staff?
Most of the work we do has a pretty heavy leadership dimension. We generally look at a set of enduring criteria that include strategic thinking ability, the ability to deliver results, typically through leading people and change.
As a result of market dynamics, the pace of change is so quick, which has big implications for culture and the way that things get done.
What was your most unforgettable experience in finding a perfect candidate?
We have extraordinary opportunities to work with Chinese clients, particularly around sourcing global talents who they may not be able to access.
In one case recently, we were able to take one of the largest global bank's chief learning officer and move him into a Chinese State-owned institution. And the exciting part is that the access we have to talent pools means we can support a newer flow of clients like Chinese SOEs.
How do you usually identify candidates and introduce them to your clients?
As we focus on top executive searches, there is a significant amount of potential overlap between the candidates and our clients, so the process has to be very thoughtful and appropriate. We have a thorough and methodical process which we customize to our clients' needs. Things you might think would happen quickly take time, including sourcing in the dynamic market, so an entire project can take anywhere from 10 to 16 weeks on average.
Any advice to the younger generation on developing career and leadership skills?
Leadership is about treating other people as you would like to be treated and conducting yourself in a way that would be perceived favorably and positively by the people you are hoping to lead.
You can't go wrong as a leader by always trying to put yourself in the shoes of your team members.
How did you join this industry and how has been your journey so far?
I was actually recruited into this industry and in the beginning I was not necessarily that enthusiastic about it, but as Spencer Stuart is a skillful recruiter, I took the offer. Things have been great and I had a very wonderful and exciting career with Spencer Stuart.
Could you share with us your management experience and how you manage such a big institution?
One of the things I know more about now than ever before is that being a good leader, particularly at the more senior levels, is all about surrounding yourself with even better people than you are. And since we are in the business of finding great leaders, I am very blessed to have around me a whole group of very great leaders.
For work-life balance, what do you usually do in your spare time?
I am very fortunate to have a terrific wife who is a professional lawyer and prosecutor in the United States and two children and two grandchildren.
I am fortunate to have family time when not at work, which is very important to me.
I have also managed to play some sports to stay reasonably physically fit, given the travel schedule that I have. I like to read because learning is not only fun and essential but also a great way to relax.
CV
Career:
2012 onwards: Managing Partner and chief executive officer of Spencer Stuart
2006-12: Chairman of Spencer Stuart
1994-2006: Various leadership roles across geographical areas and practices
1989-93: Chief operating officer at Ganton Technologies
Education:
1977-79: The Booth School of Business, the University of Chicago,
1971-75: Marquette University
Family: Married with two children