Harder push likely on yuan, says HSBC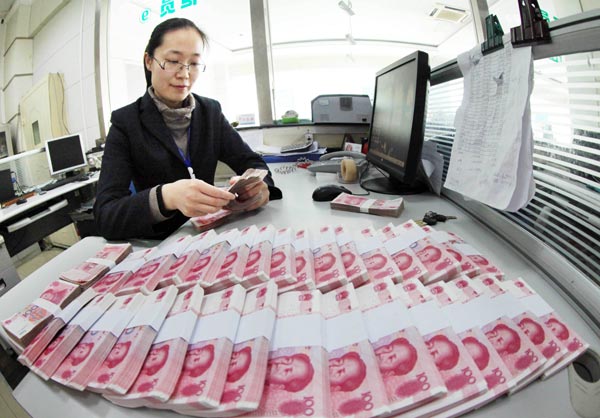 A clerk counts banknotes at a rural bank in Ganyu, Lianyungang city in Jiangsu province. A report by HSBC said China is likely to further widen the yuan's daily trading band and change the currency's fixing mechanism against the US dollar this year. [Photo/China Daily]
HSBC Holdings PLC expects China to push harder this year for the yuan's convertibility and trading freedom as part of the nation's goal to make the yuan a global reserve currency.
Qu Hongbin, HSBC's chief China economist, said at a news conference on Monday that the time is right for China to speed up liberalization of its currency, and this is consistent with his earlier prediction that the yuan will be fully convertible in trade and investment by 2015.
"Conditions have never been more favorable for capital account liberalization," said Qu, after publishing a 60-page report on the yuan's internationalization.
In the report, HSBC said Beijing is now "more confident than ever" about hastening liberalization because China's trade imbalance has been corrected and the yuan is much closer to its fair value. The fact that interest rate liberalization and other financial reforms have gained momentum recently also paves the way for a wider capital account opening.
HSBC expects the Chinese central bank to foster more offshore yuan centers this year, after setting up clearing banks earlier this year in Singapore and Taiwan, marking the birth of two new offshore yuan markets. London is likely to be the next place to have a bank that can clear yuan trading.
In the future, countries and regions that have signed currency swaps with China could all be granted yuan-clearing facilities.
So far, China has entered into currency swap agreements with 18 economies totaling 1.6 trillion yuan ($257.3 billion).
The country is also likely to allow individual investors to invest in overseas markets in a plan called QDII2, an extension of the QDII - qualified domestic institutional investor - program, which allows domestic fund managers to invest overseas under a set quota.
Central bank officials started to talk about QDII2 in January, and local media have reported that details of the program could emerge as early as May.
Another major step China is likely to take this year, according to HSBC, is to further widen the yuan's daily trading band. Last year, the yuan's daily trading band against the US dollar was doubled to 1 percent above or below a daily reference exchange rate, up from 0.5 percent.
HSBC made the forecasts after central bank Governor Zhou Xiaochuan stressed last week that a convertible yuan under capital accounts would not only facilitate the currency's global use, but also boost China's market openness and strengthen investor confidence in the yuan. The remarks are widely interpreted as a sign that the central bank will continue its reforms.
But Zhou also warned that opening up the capital account is "complicated" and needs to be done "step by step".
Australia and New Zealand Banking Group Ltd wrote in a report on Monday that a balance must be struck between the pace of capital account liberalization and domestic financial reforms.
"In our view, a better policy option would be to accelerate reforms in domestic financial markets and open China's financial services for foreign participation further, while maintaining a cautious approach to capital account liberalization," the report said.
Last year, the yuan expanded its presence in global trade and investment under government guidance. As of August, more than 10,000 financial institutions had a yuan business, up from 900 in June 2011.
For now, 12 percent of China's total trade is settled in yuan, up from 9 percent a year earlier and 3 percent in 2010.
And in Hong Kong, yuan deposits stood at 603 billion yuan at the end of 2012, accounting for 9 percent of the total deposits in the city's banking system.
gaochangxin@chinadaily.com.cn