CPI stimulated by festive spending
China's consumer prices spiked to a 10-month high in February, driven up by traditional spending during the Spring Festival holidays, and leaving less room for the government to negotiate an easing of tightened monetary measures.
The Consumer Price Index, a main gauge of inflation, rose sharply to 3.2 percent from 2 percent in January, the highest year-on-year increase since May 2012, according to data released by the National Bureau of Statistics on Saturday.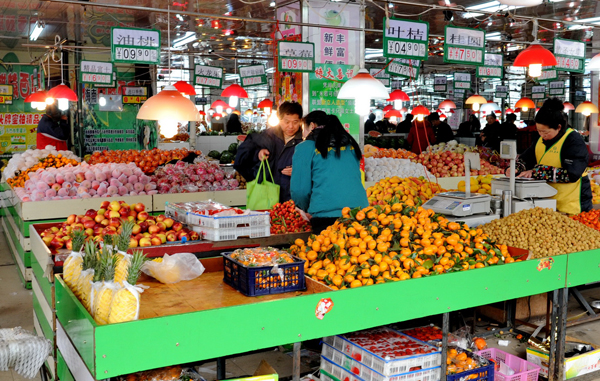 A customer selects fruits at a market in Changchun, capital of northeast China's Jilin Province, March 9, 2013. China's consumer price index (CPI), a main gauge of inflation, grew 3.2 percent year on year in February, the highest level in ten months, the National Bureau of Statistics announced Saturday.  [Photo/Xinhua]
It was mainly lifted by a 6 percent rise of food prices last month, compared to a rise of 2.9 percent in January. This segment accounted for about 30 percent of the components for calculating CPI. It contributed a 1.98 percentage point hike, the NBS said.
In February, fresh vegetable prices increased 10 percent year-on-year, while aquatic product prices rose by 7.7 percent, stimulated by strong demand during the one-week Spring Festival holidays from Feb 9.
"Price fluctuation around this traditional holiday is mainly seasonal, and will likely ease later on," said Yu Qiumei, an economist with the NBS. "The CPI may cool in March."
Liu Ligang, chief economist in China with the ANZ Banking Group Ltd, said China's inflation pressure remains high.
"The upward trend for inflation is evident, fueled by the largely expanded credit and strong inflow of overseas capital," Liu said. "Inflation will be a serious problem in the second half (of the year)."
Before raising the commercial banks' reserve requirement ratio or elevating the benchmark interest rates, the central bank is likely to continue to repurchase agreements in an open market operation right after the Spring Festival holidays to tighten liquidity, according to Liu.
Industrial product prices continued to decrease in February, with a negative 1.6 percent on the index, same as in January. It has remained in contraction for a year, the NBS data indicated.
The pace of growth in industrial output during the first two months of this year was 9.9 percent, similar to the fourth quarter of 2012. The non-metallic and automobile industries also suffered slower growth during that period, according to the NBS.
Total retail sales in January and February were boosted by a 12.3 percent year-on-year, but still recorded a sharp drop compared to 15.2 percent in December 2012.
The report also indicated that fixed-asset investment accelerated in January and February to 21.2 percent, compared to 20.6 percent from the whole of last year. Total planned investment for construction projects was 34.63 trillion yuan by the end of February, an increase of 18.8 percent from a year earlier, the NBS said.
Qu Hongbin, the chief Chinese economist of HSBC Holdings Plc said the current and main driving force of the Chinese economy is still from investment, which may need an easing of the monetary policies to retain the rebound momentum.
chenjia1@chinadaily.com.cn