Home / Business / Biz Photos
Frenchman engrossed by Dongyang wood carving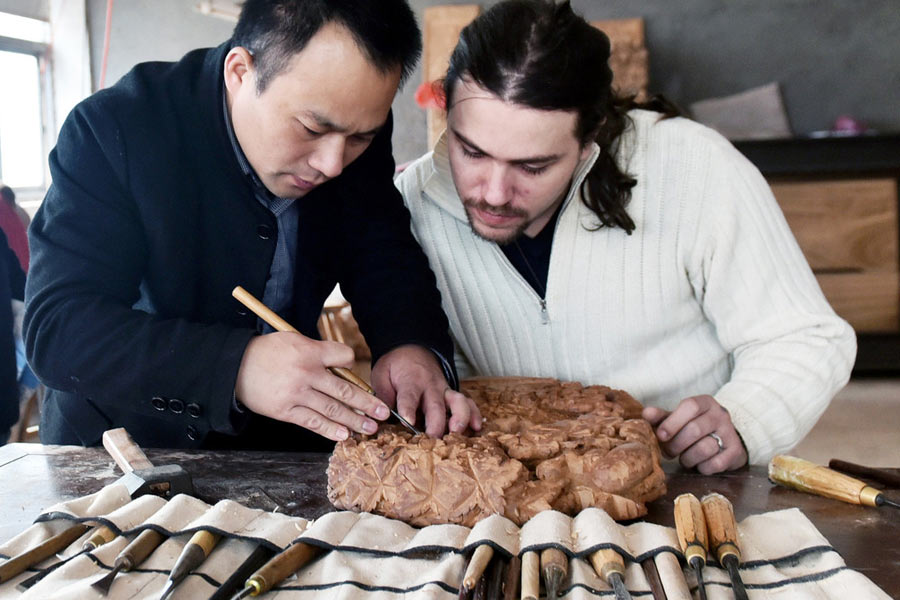 Dongyang wood carving master Lu Tingfeng teaches Frenchman Guilhem Bouissou carving skills in Dongyang, East China's Zhejiang province, Dec 29, 2016. [Photo/IC]
Frenchman Guilhem Bouissou resigned his teaching job last October and then fully devoted himself to learning the Chinese craft of Dongyang wood carving in East China's Zhejiang province.
Dongyang wood carving, named after its place of origin, Zhejiang's Dongyang city, has a long history that can be traced back to the Tang Dynasty (618-907).
Bouissou's passion for this art was inspired by a trip to Hangzhou, capital of Zhejiang province, in 2013, when he became fascinated with a set of Dongyang wood carving artworks displayed at the Leifeng Pagoda. The carvings were based on the touching classic story, the Legend of White Snake.
At that moment, he decided he wanted to learn how to make Dongyang wood carvings from the carvers who created the artworks he saw.
With help from a friend, Bouissou was introduced to a master named Lu Tingfeng, one of the creators of the artwork.
Although Lu refused Bouissou's request in the beginning because of concerns over language barriers, he finally took him on as an apprentice after being touched by the young man's sincerity.
Lu said Bouissou is very diligent and is now able to use a variety of carving tools and has mastered the basic skills.
Bouissou's wood carvings won several prizes in China this year.