Though Wenzhou is on the frontline of financial reform, its financial situation appears 'to show little sign' of recovery, since it has become burdened with a high volume of non-performing loans. Yu Ran reports.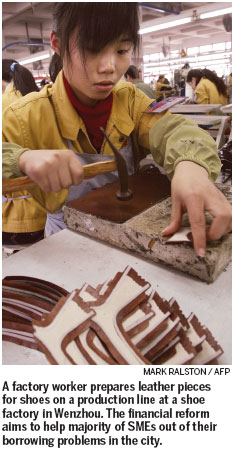 Entering the 2,300 square-meter service hall of Wenzhou's private lending service center on a Monday afternoon, it was very quiet, with dozens of cashiers sitting in front of computers doing nothing. Only one customer turned up over the next half hour.
Wenzhou is the product of a pilot project, one of the first moves toward financial reform, that aims to channel private funds into the financial system. Wenzhou has become the hotbed of private capital in Zhejiang province. The center continued to be quite empty with few enquires, as expected.
"The center is trying to assist the banks to help the SMEs in the city to provide sufficient funds to solve their financial problems but unfortunately only a few people came along for services," said Xu Zhiqian, the spokesman of Wenzhou's private lending registration service center.
Xu previously was the vice president of a sub branch of a local bank, before being appointed to take responsibility for the service center, Xu was an expert on dealing with businessmen and the banking system for loan services.
"Having worked in a bank for years enabled me to know how the bank can help borrowers and now I have to make sure the center supplies enough information and sets up a platform between the borrowers and the banks," said Xu.
Xu added that he had worked extremely hard before the launch of the center in the past year and he is keen to help all struggling SMEs out of financial problems.
Wenzhou was selected for the pilot project at the end of March, after a great many local entrepreneurs failed to repay their debts and fled the city due to the sudden tightening of lending policies, for SMEs among State-owned banks, last September.
During the credit crisis last year, about 100 businessmen in the city were reported to have disappeared, declared bankruptcy or even committed suicide with related debts exceeding 10 billion yuan ($1.6 billion).
According to the Wenzhou pilot project, covering 12 major areas, the city was recommended as the location at which to develop private owned financial services, establish village banks and rural financial agencies, and encourage State-owned banks to lend money to smaller businesses.
By July 31, the private lending center had offered more than 737 million yuan to local, individual borrowers, the majority of whom are owners of struggling, local SMEs.
"The decrease in international orders and an increase in labor and material costs of about 30 percent created enough pressure on the SMEs, which find themselves urgently in need of help from the financial reforms as soon as possible," said Zheng Chen'ai, the chairman of Wenzhou Chamber of Clothing Commerce.
Zheng added that the financial reform aims to help majority of SMEs out of their borrowing problems, but the pilot is not working very well, because the whole procedural requirements are not very convenient and quite inaccessible.
Sun Shaoding, the owner of Zhejiang Fukang Group, a Wenzhou-based company that supplies packing services, and rich color-printing materials hopes to recover from the hard times with help from the financial reform.
Sun's company was expected to record about 20 percent increase in profit for the first half of year but actually showed little growth over the same period last year.
"After Wenzhou was selected for the pilot project, we thought that we would be able to borrow money easier and more safely without being restricted at all," said Sun.
Sun added that applying for a loan is impossible for private businesses if they don't have any collateral.