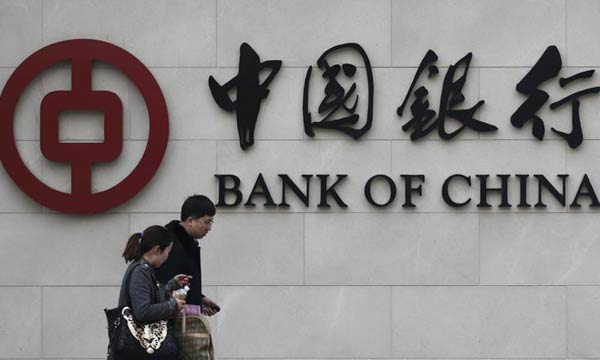 Pedestrians walk past a Bank of China sign at its branch in Beijing, Mar 26, 2013. [Photo/Agencies]
Encanwell Environmental Science and Technology Co Ltd, an air pollution monitoring and alerting system developer in Hebei province, could never have imagined forming a joint venture with Ventilairsec, a French positive input ventilation system manufacturer, without the help of their matchmaker - Bank of China Ltd.
The two companies signed an agreement during a cross-border investment and trade cooperation conference jointly held by BOC and the Hebei provincial government in Tangshan last week.
The conference attracted nearly 200 companies from 22 European countries and more than 500 Hebei companies, allowing them to discuss business opportunities face to face.
Damien Terny, export manager of Ventilairsec, first met with top executives of Encanwell during a matchmaking event for SMEs from both countries held by BOC and the French Ministry for the Economy and Finance in Paris last year.
"The interest for us at that time was to find the right partner in China to grow in this market," he said. "Before meeting the Chinese company, we heard many things about the air pollution in China and thought it was important to learn directly from people in related industries in China. A few months later, we had the first MOU to work together."
Because their businesses are complementary to each other, the two companies reached an agreement to form a joint venture in Hebei to develop and produce smart indoor air quality control systems, with a total investment of $210 million. Their target clients include kindergartens, primary and middle schools, hospitals and hotels in China. The initial investment will be $35 million, of which Encanwell will contribute 70 percent and Ventilairsec 30 percent.
Also benefiting from BOC's matchmaking, Hebei Tangshan Pengfei Machinery Equipment Co Ltd reached a 100-million-yuan ($15 million) agreement with a Serbian company to build white sugar packaging production lines.
Through the Serbian partner's introduction, it also cooperated with a German company on a 150-million-yuan project to manufacture intelligent parking systems. The first batch of products will be exported to Germany this month.
Liu Yunpeng, general manager of Pengfei Machinery, said: "Our company is in transition to redirect part of our business from lifting equipment manufacturing to intelligent parking and automated warehousing system manufacturing. It's in accordance with the adjustment of industrial structure in China. BOC helped us make a breakthrough by introducing us to our first overseas client."
The company received a loan of 8 million yuan after reaching the agreement for cooperation with its Serbian partner and is seeking more support from the bank.
Since 2014, BOC has held 23 cross-border matchmaking fairs for more than 7,000 SMEs from 52 countries and regions.
Chen Siqing, president of BOC, said: "Pushing forward cooperation among Chinese and Central and Eastern European companies is a crucial step of BOC's program to join hands with Hebei to promote structural reform, economic transition and coordinated development of the Beijing-Tianjin-Hebei region."
The bank will provide financial services to qualified companies during their entire business life cycle to help them develop cross-border investment and trade.