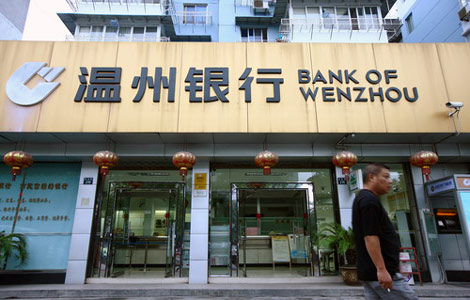 A branch of Bank of Wenzhou in Wenzhou, Zhejiang province. SMEs in the city can now be established with zero registered capital under new policies. [Photo / China Daily]


New financing channels to remove roadblocks from credit growth
Small businesses in Wenzhou can now be established with zero registered capital, and they can borrow using their equity as collateral, under new policies to revive the city's real economy.
The local industrial and commercial administration bureau has issued a 31-point circular that aims to help small and medium-sized enterprises get easier access to funding and forge stronger ties with the government.
A pioneering endeavor is to give smaller domestic firms (excluding sole-proprietor limited liability companies) with registered capital under 1 million yuan ($158,200), an extension of provisions on initial capital contributions.
Under China's Company Law, shareholders must contribute at least 20 percent of a company's initial registered capital. Under the new rules, the shareholders will have three months to contribute the initial 20 percent, with the remainder to be paid in full within two years from the date the company is established.
The extension "provides a precious buffer zone for companies to raise funds", said Zhou Dewen, chairman of the Wenzhou SME Development Association.
Another attempt to ease the credit crunch involves the approval of equity pledge loans, in which a company pledges its stock, instead of assets, to obtain a loan.
SMEs in Wenzhou may borrow from banks, qualified underwriters and small-loan firms under that arrangement.
The reform will give SMEs new financing channels and remove roadblocks from credit growth, said Sun Lijian, a professor from Fudan University who was on the Wenzhou financial reform panel.
"For equity pledge loans, should a default occur, the bank may take ownership even as the company continues operating," Sun said.
"In the case of a collateral-backed loan, the creditor takes possession of the assets so that the factory has to cease operating. "
Most smaller private companies are starved for funds amid tight credit controls.
Sun said the Wenzhou plan aims to diversify the permitted collateral for loans, which may eventually be broadened to include intangible assets such as intellectual property rights.
The policy also permits the use of residential apartments for commercial activities, which applies to the service sector and e-commerce vendors.
The local government will also help SMEs by setting up a regular contact mechanism and extending tailor-made assistance to firms.
These incentives came in the wake of a private lending crisis that crippled the real economy in Wenzhou, a city known as the cradle of private entrepreneurship.
The real economy is concerned with producing goods and services, as opposed to the part of the economy that is concerned with buying and selling on the financial markets.
Industrial output, which grew 29 percent at its peak in August 2010, shrank in the first two months of this year.
Banks' non-performing loan ratio advanced to 1.74 percent at the end of February from 0.44 percent a year earlier.
In 2011, the number of newly established foreign firms in Wenzhou tumbled by 40.5 percent and registered capital sank 74.8 percent.
The new policies underscore the government's determination to step up the transformation of industry and promote a more sustainable economy, Zhou said.
Meanwhile, the average private lending rate in Wenzhou has fallen by three percentage points over the past year, to about 22 percent, according to a new interest rate monitoring system.
The Wenzhou branch of the central bank announced on Wednesday its first reference rate for private lending in the city. This is part of the pilot project to legalize private lending in Wenzhou adopted by the State Council in March.
The average private lending rate in Wenzhou is 21.58 percent, down 3.02 percentage points year-on-year and 0.8 points month-on-month, according to Xinhua News Agency, which cited an announcement by the central bank's local branch.
The branch has conducted a regular survey of private lending rates since 2003. The surveys include data from 30 rural credit agencies, 28 micro-lending companies, 30 credit guarantee companies and 50 pawnbrokers and social lending agents, Xinhua reported.
Lending rates in Wenzhou are widely regarded as indicative of the availability of funding nationwide and the interplay between demand and supply.
hewei@chinadaily.com.cn