Top executives weigh in at CIIE (III)
Share - WeChat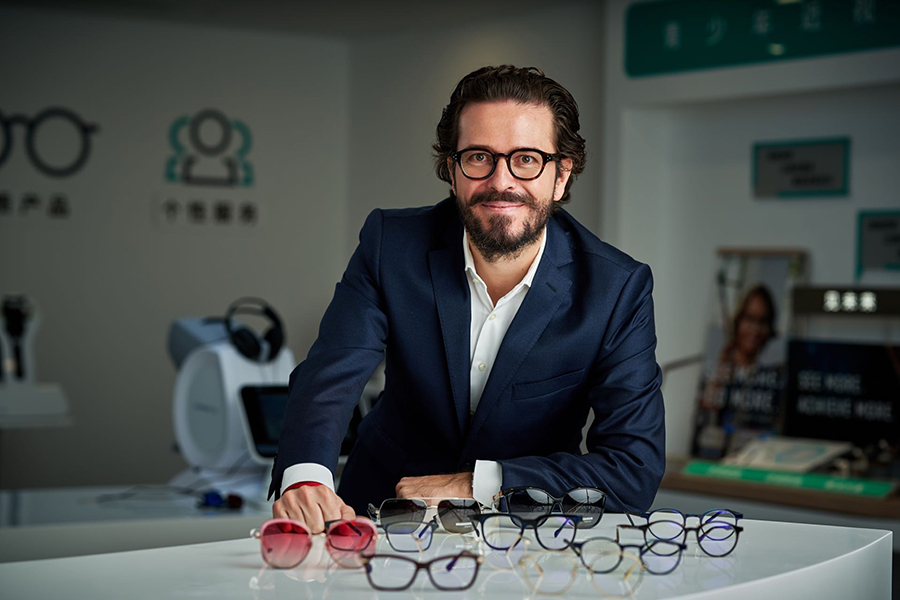 A1: We are an old friend of the CIIE, having attended the grand event every year since it started. This year, we are proudly bearing the new name EssilorLuxottica, following the recent merger of Essilor and Luxottica. Our past experiences with the CIIE have proven it to be an excellent platform for us to raise public awareness surrounding vision health, showcase our latest advancements in vision solutions, as well as open up many business opportunities.
EssilorLuxottica is committed to bringing good vision and good style to all and the CIIE is a way to promote common prosperity by showcasing innovations that can serve everyone's access to good vision.
A2: China's hosting of the CIIE underlines the country's steadfast commitment to further open up its economy and promote economic globalization in a safe and productive way. In the post-pandemic era, the fourth CIIE reinforces the world's confidence in rebuilding trust and economic recovery by setting a stage for global engagement and economic collaboration — sharing opportunities with the world to promote the world.
A3: In this post-pandemic era, global economic collaboration faces many challenges. As one of the largest economies in the world, China is taking the lead to foster a new domestic development paradigm, which provides a new solution for global economic collaboration. In this new paradigm, domestic circulation will work as the mainstay while domestic and international circulations reinforce each other, lending strong impetus to global economic collaboration.
A4: We see substantial potential in China's eye care and eyewear industry, thanks to higher levels of awareness about vision care and the changing lifestyles of Chinese consumers. Our product offerings cover a wide range of categories that enhance people's vision, such as blue cut, anti-fatigue, progressive and photochromic. In particular, we remain firmly committed to developing total solutions in tackling myopia in China, an issue affecting more than half of the country's preschoolers and young students, with the debut of two more powerful additions to our child myopia management family at the fourth CIIE.
A5: China's opening-up has never stopped. In the past few years, we have seen the tremendous efforts made by the Chinese government in optimizing the nation's business environment for global investors, including the implementation of the Foreign Investment Law and the further shortening of its negative list for foreign investment. This is super inspiring for multinationals like us, and we foresee more exciting opportunities here. Though the regional integration is still in progress, we cannot wait to make our presence felt at this year's CIIE to show our long-term commitment to the China market as a unified company.
A6: As a foreign company rooted in China for many years, we've witnessed the tremendous efforts made by the Chinese government at all levels in opening-up. Today, we see a vibrant, resilient Chinese market that presents the world a new paradigm in high-quality reform and opening-up, takes the lead in driving the global economic recovery and reinforces the confidence among all multinational corporations.
A7: EssilorLuxottica strives to accelerate the pace at which we bring cutting-edge innovations to the Chinese market and advance the development of a more robust vision industry. In recent years, we have seen steady regulatory progress being made by the government in encouraging more innovative medical devices to enter the market at a faster pace. Looking ahead, we hope to work with our ecosystem partners to achieve better synergy with ISO (International Standards Organization) certification and improve accessibility of innovative optical and ophthalmic technologies, so as to provide better vision care experiences for both Chinese consumers and eye-care professionals.
A8: The hosting of the CIIE demonstrates China's consistent position in supporting the multilateral trading system and promoting free trade. It showcases China's strong determination toward high-level opening-up and the willingness to share its opportunities with the rest of the world.
Having attended the CIIE for the past three years, we have significantly raised public awareness surrounding vision health, especially myopia, a pressing issue affecting more than half of China's preschoolers and young students. The platform also opened the door to many great business opportunities for our company.