Top executives weigh in at CIIE (III)
Share - WeChat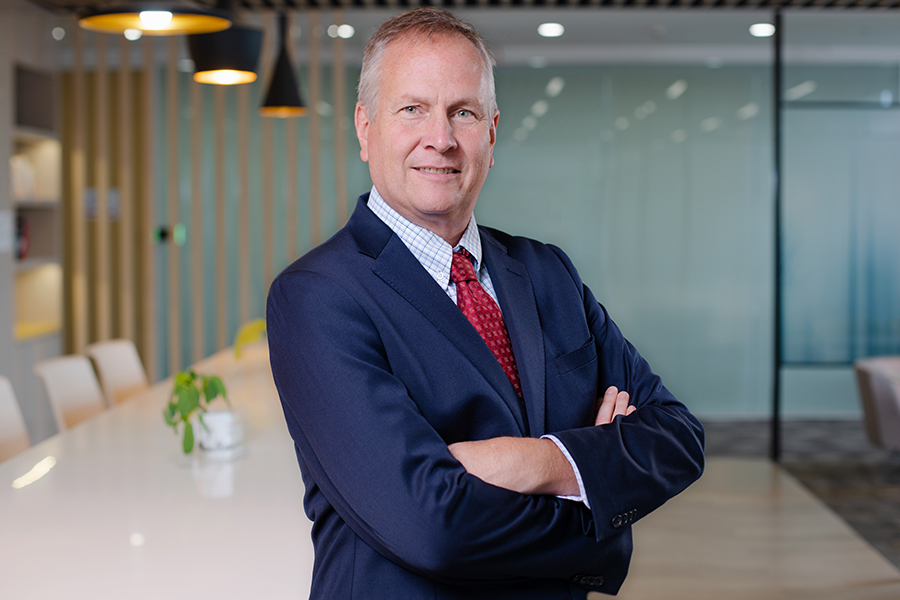 A1: This year, Honeywell joins the China International Import Expo for the fourth consecutive year with doubled booth area, fully demonstrating Honeywell's confidence in the expo. Honeywell values the CIIE as a world-class platform and we will continue to leverage this year's expo to grow with our Chinese customers and contribute to the country's development goals, including China's efforts in peaking carbon emissions by 2030 and achieving carbon neutrality by 2060.
A2: CIIE is of particular significance as it provides a world-class platform for global companies like Honeywell to enhance exchanges, promote investment and open new opportunities, which demonstrates China's willingness to share market opportunities with the world and promote world economic recovery in the post-COVID era.
A3: China's opening-up efforts such as CIIE are of particular significance amid the COVID-19 pandemic, as it shows the resilience of China's economy, demonstrates China's determination to play an important role in promoting an inclusive, sustainable and resilient global economic development and the sincere willingness to share its market opportunities with the world.
A4: Our core business is perfectly aligned with China's market demands such as growing middle class, industrial digitalization and decarburization. As China continues its economic growth in a more balanced and sustainable manner, the emerging market in China represents a big growth segment in the next decades.
About half of Honeywell's new product introduction research and development investment is directed toward products that improve environmental and social outcomes for customers. The company is uniquely positioned to shape a more sustainable future in China together with local partners by continuously developing sustainability technologies that provide customers with adaptable and efficient solutions to their energy and environmental needs.
A5: China has made a lot of efforts in opening up its economy and improving its business environment for foreign investors. For example, Shanghai's Pudong New Area has been tasked by the central government with the new mission to build into a pioneer area for socialist modernization, marking the country's latest step to further drive reform and opening-up.
Honeywell believes China's commitment to openness will further deepen reform and have a positive impact on recovery and development of the global economy. With China opening further to the world, Honeywell will continue to enhance local R&D capabilities and bring technologies and products developed in China to overseas markets.
A6: We applaud China's continuous opening-up efforts and believe the dual circulation development pattern is an important step to further deepen reform and opening-up. In fact, Honeywell business strategy in China is perfectly aligned with the dual circulation development pattern. As early as 2004, Honeywell put forward the Chinese market development strategy of "East for East", that is, to meet the needs of the Chinese market through a series of local product development and innovation. As more and more Chinese companies "go global", the "East to Rest" has become another important strategy for Honeywell in the Chinese market.
A7: We find China's policies to ensure stability in foreign trade and foreign investment most appealing. Honeywell is looking forward to a deepening openness and we will further increase local investment, enhance local R&D capabilities, and bring the technologies and products developed in China to overseas markets to implement our strategies of "East for East" and "East to Rest".
As China focuses on creating a carbon-neutral future, we also look forward to joining hands with more partners and stakeholders in China in innovating and commercializing technologies that help reduce greenhouse gas emissions, save energy, and support the adoption of renewable energy sources.
A8: Honeywell was one of the first global companies to enter the Chinese market after China opened its door in the 1970s and has been in China for more than 40 years. Today, China has developed into Honeywell's largest growth market. China's opening-up policy as well as its support for globalization and free trade have greatly improved the living standards of the Chinese people and served as an anchor of the global economy.
In the process of China's opening up and economic take-off, Honeywell has been a witness but also a participant, a contributor but also a beneficiary. We are optimistic about China's economic growth and believe the importance of the Chinese market will further grow.