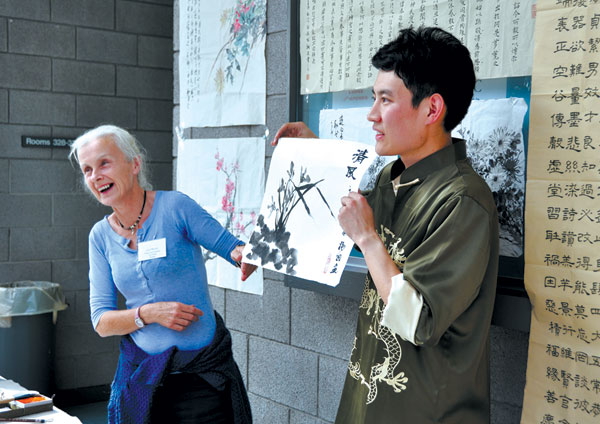 A traditional Chinese painting lesson at the University of Dublin in Ireland. Provided to China Daily
As China's Confucius Institute celebrates its 10th anniversary, its influence is being felt not only in language tuition, but also in fields as diverse as medicine and the arts.
When delegates gathered in Cambridge, England, for the first annual national conference on Chinese teaching in schools in 2004, they could hardly have foreseen how far Chinese-language learning would advance in the following 10 years.
Though China had begun opening up 15 years earlier and had joined the World Trade Organization in 2002, its trade with Europe was a mere 10th of what it is today.
At the same time, the study of Chinese was the pursuit of a very small minority, and with the European Union preparing to grow - 10 countries would join in 2004 - French, German and other European languages continued to be the staple of second-language teaching in British schools.
"Only a very small number of schools in England offered any kind of Chinese provision," said Katharine Carruthers, who attended the 2004 conference.
It marked "a turning point in the development of Chinese teaching in schools", said Carruthers, now director of the Institute of Education, part of the University of London.
That turning point owes much to events the same year in the South Korean capital, Seoul, where China's National Office for Teaching Chinese as a Foreign Language, also known as the Hanban, opened its first Confucius Institute, the first of what would eventually become hundreds worldwide. The Institute of Education was in the first wave, opening its first Confucius Institute in 2006, and has since set up many programs with funding, teachers and other support from Hanban to create the largest network of such programs in the United Kingdom. Confucius Classrooms are a sister program aimed at secondary education.
The growth and increasing importance of learning Chinese was illustrated, too, by this year's national Chinese conference, held in London three weeks ago, which drew a record 300 attendees and delegates, including the UK's Education Minister, Elizabeth Truss.
Learning for the future
After returning from a trip to China late last year, UK Prime Minister David Cameron, urged students to move away from French and German and start studying Mandarin.
"By the time the children born today leave school, China is set to be the world's largest economy," he said. "So it's time to look beyond the traditional focus on French and German and get many more children learning Mandarin." Cameron said he hoped the current number of Mandarin students would double to 400,000 by 2016.
Similarly, Scottish authorities said last year that they hoped the number of those competent in Mandarin in Scotland would double by 2017.
There are now 298 Confucius Institutes and Confucius Classrooms in 38 European countries. The UK, with 115 centers, has become the second-largest host country behind the United States, fueled in part by a large network of instructors and growing economic ties with China.
Enrollments in the Institute of Education's Confucius program, which covers 35 institutes and 440 classrooms, rose from 5,942 in 2011 to 8,364 last year.
"There has been considerable growth in Mandarin study as awareness of Chinese culture has grown alongside China's importance as an economic powerhouse," Carruthers said. "Students find Chinese interesting, and they enjoy learning about a different culture, and the ability to speak Chinese can lead to greater prospects for jobs. We want to see Chinese on the curriculum in schools, alongside European languages."
The Confucius Institute, often compared with the British Council, the Goethe-Institut of Germany, Alliance Francaise of France and the Cervantes Institute of Spain, most of which have been around for many decades, is a relative newcomer in the realm of cultural associations.
Alliance Francaise, founded in 1888, has 1,040 establishments in 136 countries, while the British Council, founded in 1934, has 200 offices in 100 countries.
The Confucius Institute, which will celebrate its 10th birthday in September, has more than 440 branches and 640 classrooms worldwide, and aims to have 1,000 by 2020. By 2011, China had spent more than $500 million on Confucius Institute programs.
The institute's modus operandi differs considerably from its European counterparts in that it sets up offices on university campuses, connecting students to China and its academic institutions. While that strategy seems to be working like a dream, if the growth figures are anything to go by, it creates at least one problem: finding qualified teachers to lead its programs.