China has proposed a modern version of one of the ancient world's best-known trade routes, as Cui Jia reports.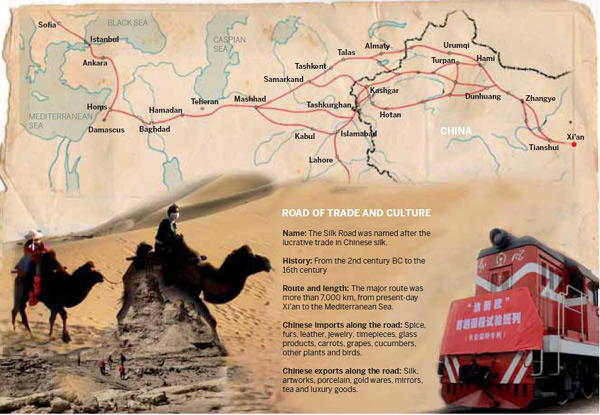 Feng Xiuxia / China Daily
The Silk Road. The very name conjours up images of hardy, courageous merchants fighting off bandits and warring tribesmen as their caravans, carrying exotic silks and spices, ventured warily along a series of ancient trade routes that stretched more than 7,000 kilometers from China to the Mediterranean Sea and provided a connection between East and West for centuries.
Now, plans are afoot to bring back the glory days, but instead of camels, the modern travelers will use automobiles, trains and aircraft to traverse a route that was responsible for the settlement and development of some of the greatest cities known to the ancient world.
In 2013, during a speech in Kazakhstan, President Xi Jinping proposed that China and the Central Asian countries should build an "economic belt along the Silk Road". The trans-Eurasian project would target more than 3 billion people and represent the single biggest market in the world, one with unparalleled potential.
In his work report at the start of the second session of the 12th National People's Congress, Premier Li Keqiang stated that the government will push forward the establishment of the Silk Road Economic Belt, which may eventually encompass more than 40 countries.
Sun Weidong, a consular official at the Chinese embassy in Kazakhstan, said the economic belt will mainly benefit China's underdeveloped western region and will become an updated version of the "Go West" strategy of the early years of this century. In addition, the government hoped that the project will open up western China to Eurasian countries and correct the developmental imbalance with the coastal regions in the east.
Fierce competition
While Sun admitted that a lack of policy support and detailed guidance from the central government will initially pose problems for the development of the project, he was adamant that cities on the proposed route will be in fierce competition to grab a piece of the pie.
Dong Jun, mayor of Xi'an, the capital of Shaanxi province, the original starting point of the ancient Silk Road, said the city is anxious to reclaim its position as a hub of trade and cultural communications.