Antonio Fatiguso: Blue sky in Beijing, just a question of time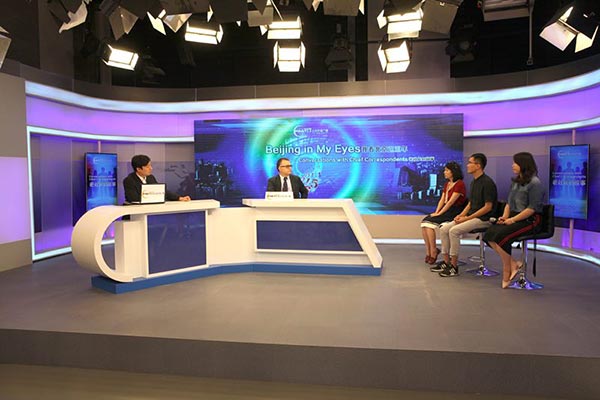 Antonio Fatiguso, center, Beijing bureau chief of ANSA Agency, is interviewed on "Beijing in My Eyes-Conversations with Chief Correspondents" show broadcast by Radio Beijing International. Photo provided to chinadaily.com.cn
Italy has hosted two winter games in its history, one in Cortina d'Ampezzo in 1956 and the other in Turin in 2006. Given that Beijing and its neighbor Zhangjiakou are to host the winter Olympics in 2022, Antonio believes that Italy's unique advantages puts it in a good position to benefit from the Games.
"There is an Italian way to deal with everything. It's kind of unique passion, something you can feel. Because of this passion, both Italian food and fashion stand out on the world stage."
The first time Antonio visited Beijing was back in 2010 when he transiting to DPRK. He made the time to visit the Forbidden City, where he was overwhelmed by the magnificent ancient architecture and its abundant culture and history. The historical part of the city remains his favorite. For him, the hutongs, the Bell and Drum Tower, the 798 parks are places worthy of endless exploration.
"It takes time to preserve the ancient buildings. But it's important to think it in a strategic way that they are part of our history and culture. It's also important from the tourists' point of view, a way to improve the economy. Italy is also blessed with a lot of amazing buildings and tour sites. We should share our experience in the preservation," Antonio said.
In the coming weeks, more guests will join the special series of interviews, "Beijing in My Eyes-Conversations with Chief Correspondents" presented by Radio Beijing International. The 7-episode series will be aired on Radio Beijing International through 92.3FM and 774AM in late September. People can also find more videos, words and pictures on CRIonline, China Daily, China.org, huanqiu.com, Beijing This Month Publication, Beijing Time as well as the official website, weibo and wechat accounts of Radio Beijing International.